Artist Trading Cards – Getting Started
Beginner Artists
If you are beginner artist, or you don't even consider yourself as an artist just yet, you may be interested in Artist Trading Cards.
They are a way to make small artworks that can usually be completed in an hour or so. As the canvas is small it is not as overwhelming as one large sheet of paper to fill.
They are what I like to call "gateway" art works (along with Post-it art) that everyone can do.
Artist Trading Cards are brilliant to do at the kitchen table with your children as a quick art project that doesn't take hours to complete.
If you are just starting out with your color creative journey, try Artist Trading Cards.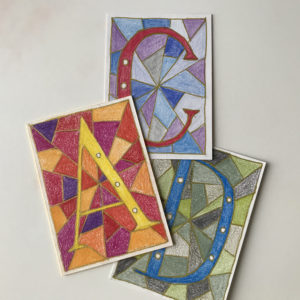 The Inspiration for Artist Trading Cards
Artist Trading Cards are useful for all artists. They are quick to make and showcase your art medium and art style
Originally when an artist created a large painting, they often would make several tiny copies of the artwork to give to prospective buyers, galleries or other artists in an effort to promote their craft.
Over time these handy dandy cards have become artworks in themselves.
I like to make Artist Trading Cards to share with my family and especially those who live far away. It is a nice thing to receive a few Artist Trading Cards in the post to add to your collection.
Trading
Typically, the cards are swopped or traded between other people. You don't sell them, but you give one and, if you are lucky, they give you one back.
Over time you will have a vast collection of a variety artist's work without spending a penny.
At the same time, you have distributed your labor of love to people who may be interested.
Size
The size for Artist Trading Cards are quite specific.
Each card is 64mm x 89mm or 2.5″ by 3.5″ which is a standard card size.
This is the same size a a regular playing card.
Artist Trading Card Series
Many painters make a series of cards all in the same vein. For instance, you could do "Monograms" or "Spring Blooms" as I have recently.
Then you make ten or twelve Artist Trading Cards all similar and you can number the individual series 1 of 12, 2 of 12 and so on.
This is a nice way to get better at one particular type of work, Monograms or Spring Blooms, before you move on to something else.
Ideally you could have a series for each month of the year and make lots of cards that are all part of that month's series or collection.
The Back Matter
On the back of the card, you write a few lines about the cards.
I usually write:
Artist Trading Card
Artwork name or series name and number
Alison Hazel Art
The date
My signature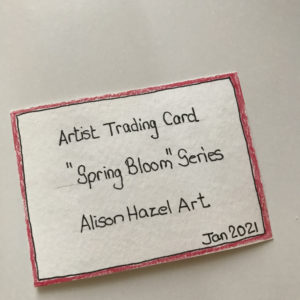 Your Art Business Growth
Artist Trading Cards can be like a business card for artists.
After you inscribe your name and the title of the piece that you have created on the back of the card you can get creative here as well. This is also a place to put your website and contact details.
More advanced artists who get into Artist Trading Cards collecting will make individual cards to trade specifically with other artists.
The In Person Trade
Back in the days before lockdown (when we met people face-to-face) you could go to an Artist Trading Card group meeting.
You would take your cards to trade. Perhaps 24 or 36 cards and often the organizer will tell you how many people to expect at their meeting.
You probably will keep one from each series for yourself, then you will trade these cards with the other people who have various themes and will have created different cards.
On meeting day, you will go home with several original works of art signed by people you have met and know. Each card will be special and unique.
Nowadays I find it's easy to send the cards in an envelope to my family, friends and other people.
Show Us Your Cards
You can buy blank ready-made Artist Trading Cards in better quality and an assortment of cardstock and thicknesses from Strathmore (available at Michael's craft store) to make better cards.
As the interest in making these little cards takes hold, you can develop your style and the way you present your artwork through the cards.
Every artist is different and each one will work with these cards in their own way.
When you finish a card take a photo and post it to social media with the hashtag #artisttradingcard and tag me @alisonhazelart (so I can find them) I would love to see your work.
Grow Your Collection
You can grow your collections of other artists work or you can simply see the evolution of your own talent through the Artist Trading Cards that you make. Because each card is dated you can look back in a year or two's time and see just how far you have come on your art journey.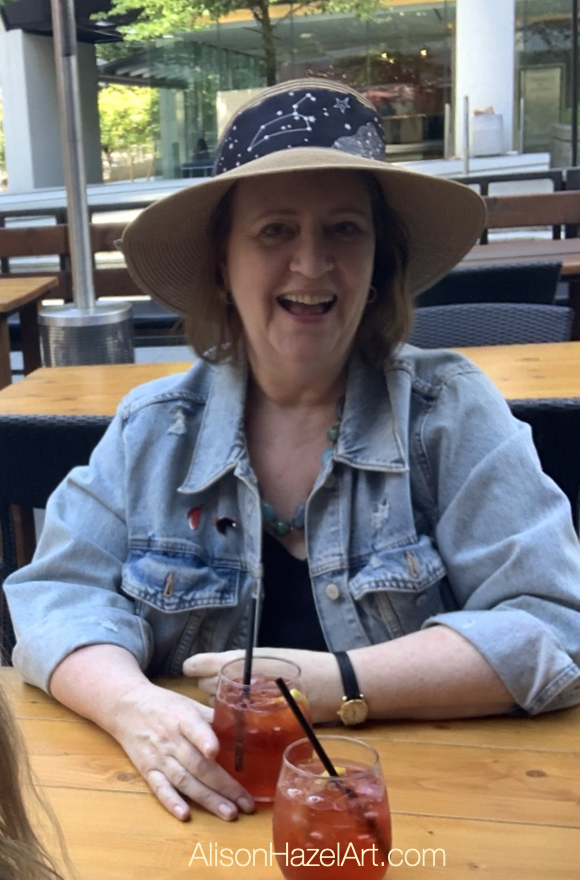 Author Bio
Alison Hazel shares her ongoing journey about becoming an artist later in life. She creates simple art that anyone can make. She hopes to inspire you to reach your creative potential in the area that suits you.
Go here to read more about Alison's story.
If you want to send Alison a quick message go here.
More Articles
If you enjoyed this you may like some more posts from our blog below.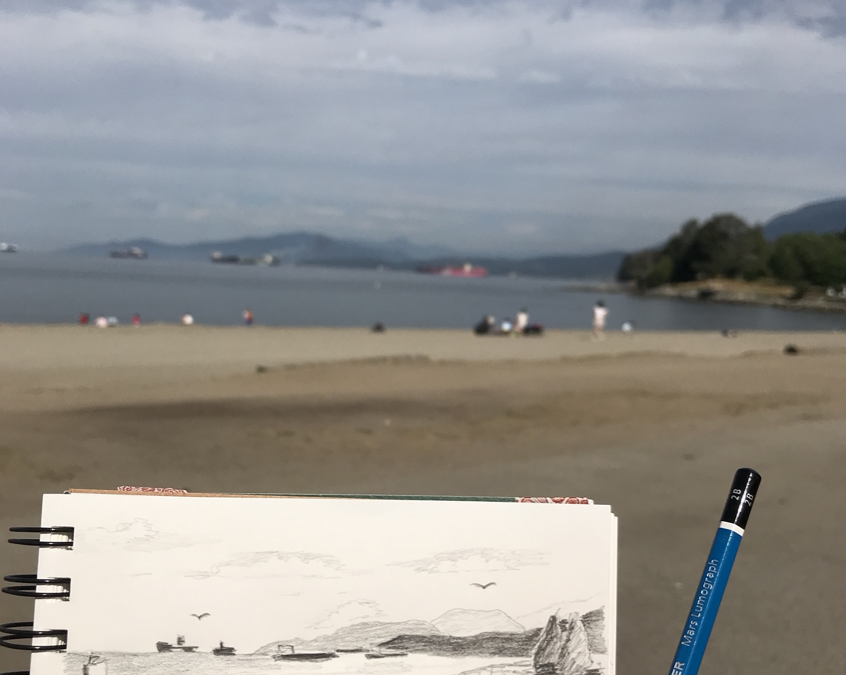 Sketching outdoors at English Bay beach in Vancouver and then home for the studio sketch with colored inks.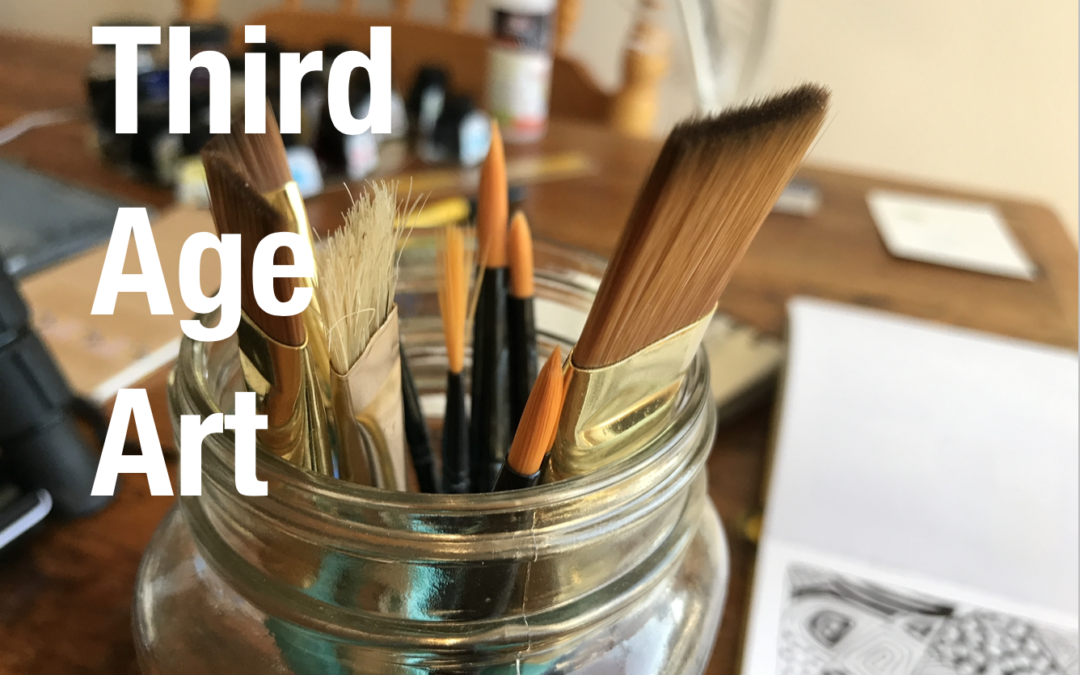 Get some ideas on finding your unique creative art expression as a woman in the Third Age of life through a journal activity.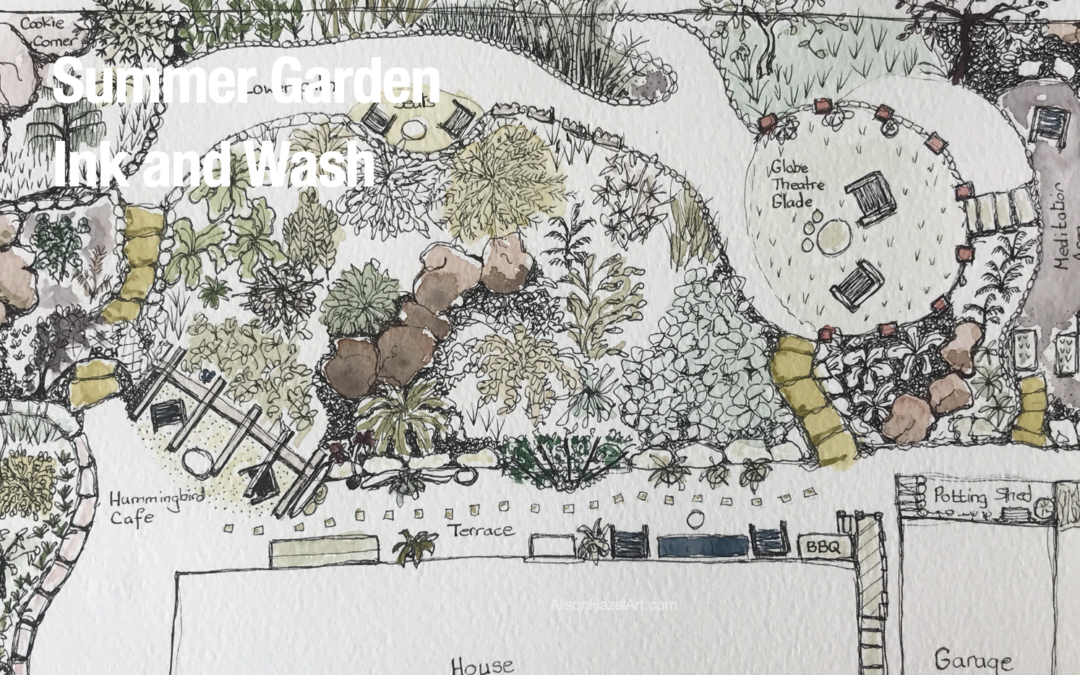 How to draw an interesting plan/elevation view of an artist's visit to a friends' delightful private garden with pen and wash.