What
Group
The "Seasons of Art" is a group that meets once each season with a focus on developing creativity and self-care through simple art and journaling.
The first meeting was on Saturday, October 15th, 2022.
There was a still-life in the colors of the current session on the middle of the table for everyone to draw if they liked.
They did not have to draw the seasonal still-life if they had other art or journaling projects which they were working on.
Host
Hosted by Alison of Alison Hazel Art a hobby artist in Vancouver, Canada.
Alison is building a community of people who love to paint and draw and write in a safe and supporting atmosphere where everyone is valued.
You can find out more about Alison here.
Spring23 Group
Find out about our recent Seasons of Art group meeting for Spring 2023.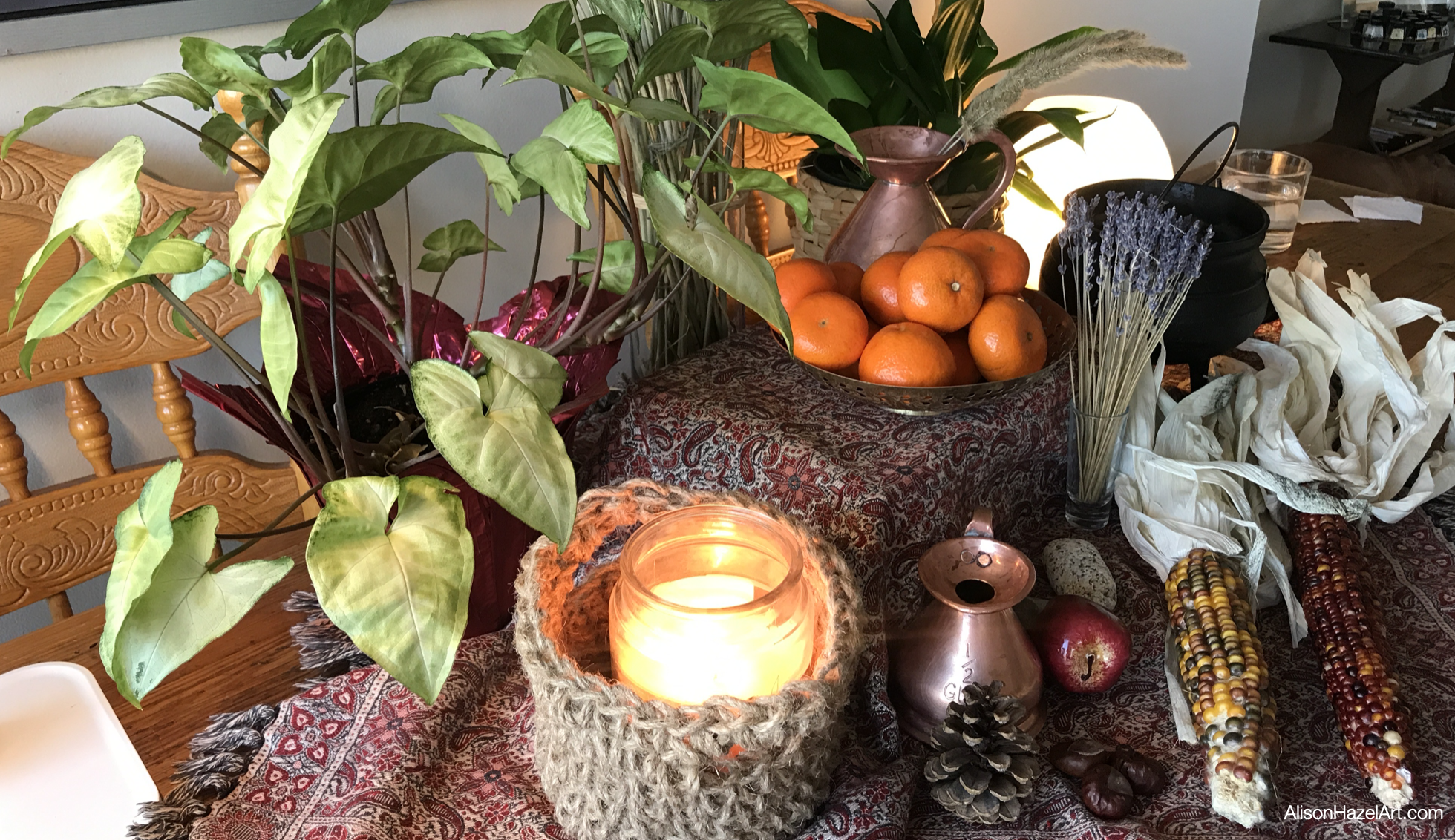 Autumn 2022 Seasons of Art Group
I was delighted to have two guests join me at the first session.
As an ice breaker, there was a white board where everyone was invited to draw their avatar and write their contact info if they wished.
See below.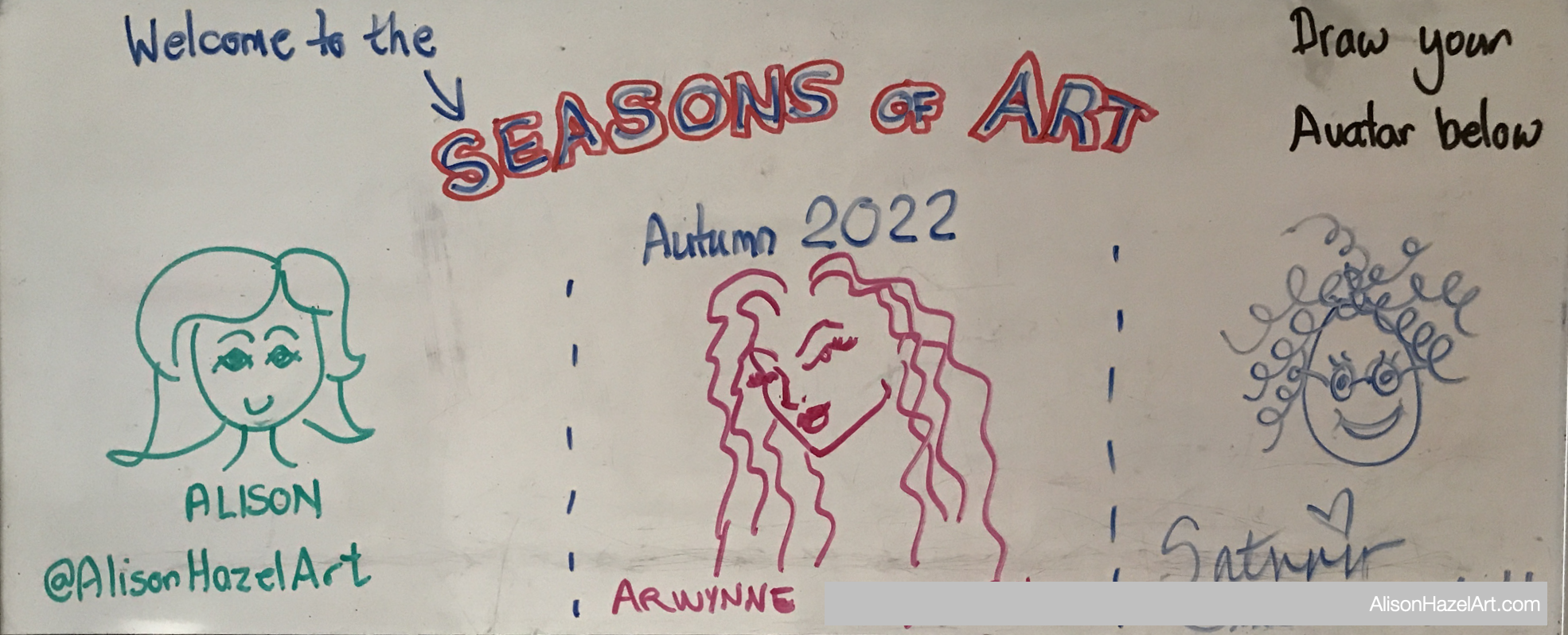 Meet and Greet
We all met and got to know each other a little.
They are great gals whom I knew did painting who I reached out to with an invitation.
We fixed some nibbles and poured a glass of cheer.
Then all three of us settled in to sketch and paint the autumnal still-life I had composed earlier on the table.
Satvvir's Artwork
Below is the art that Satvvir created.
Her focus was on the texture of the fruits, the gleam of the copper jugs and the mini cauldron.
She used wax and colored pencil for her delightful composition.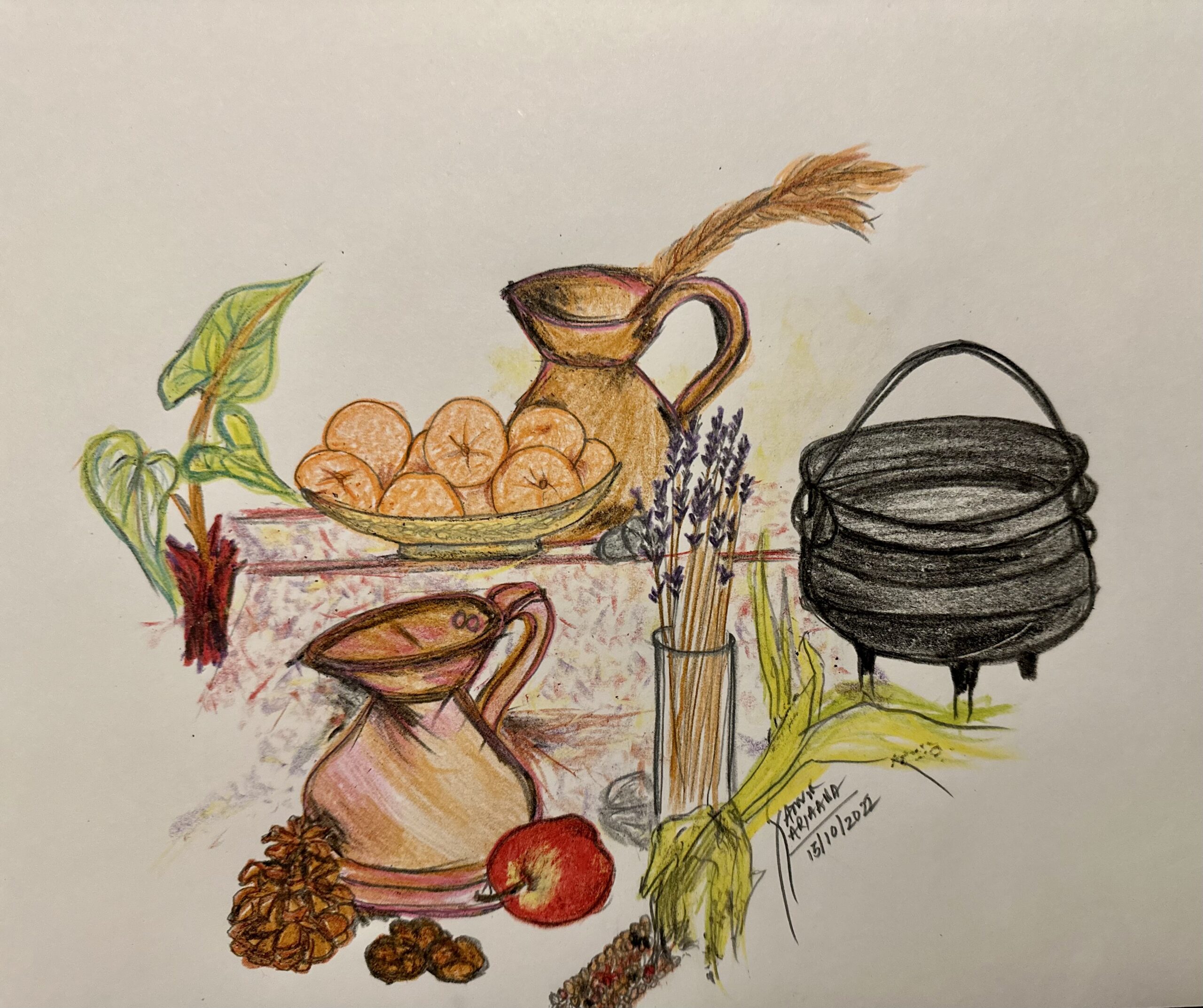 Arwynne's Artwork
Below is the art that Arwynne created.
Her focus was initially on the greenery.
Then she honed in to make a well considered composition of the multiple elements in the still-life arrangement.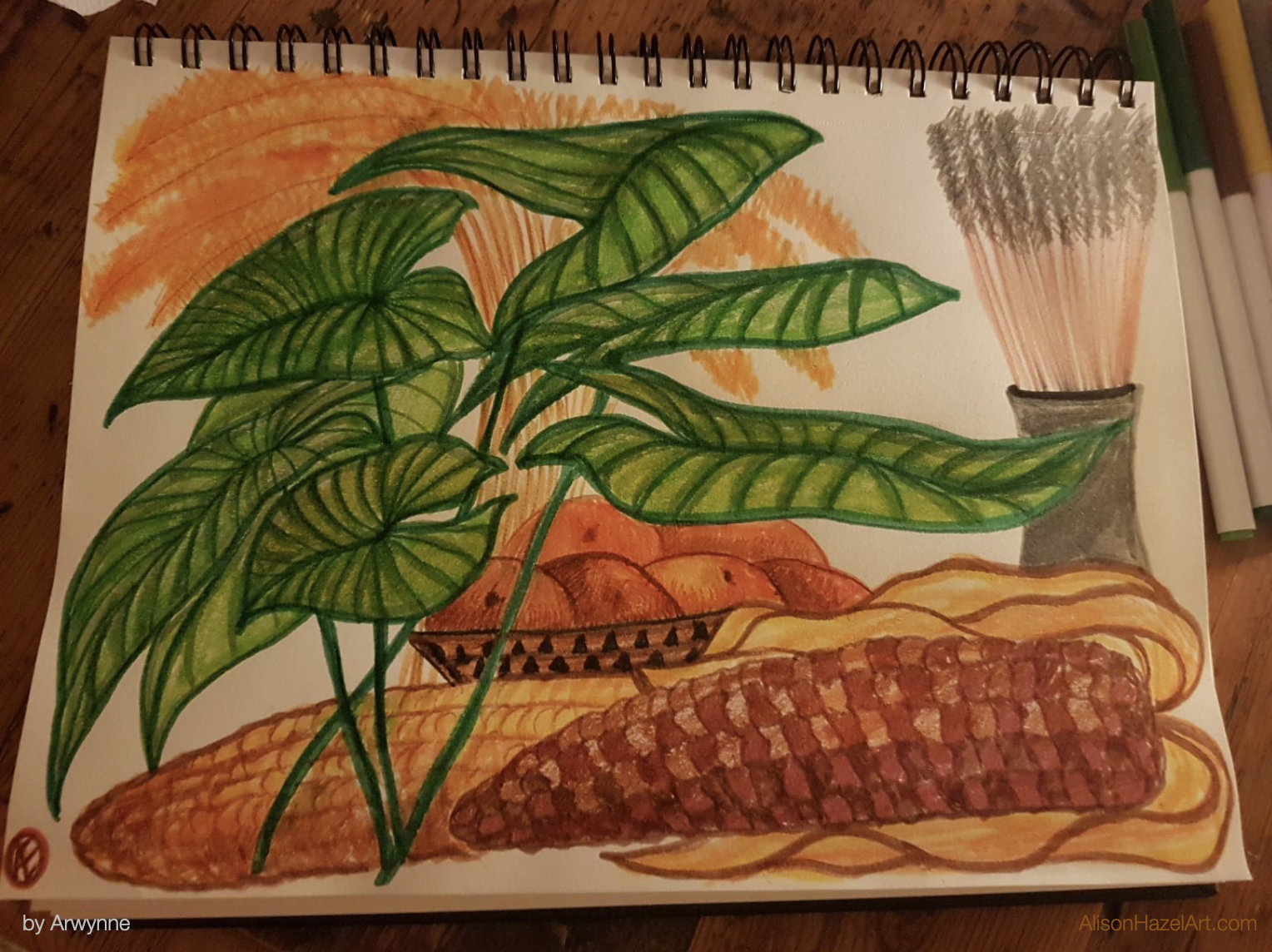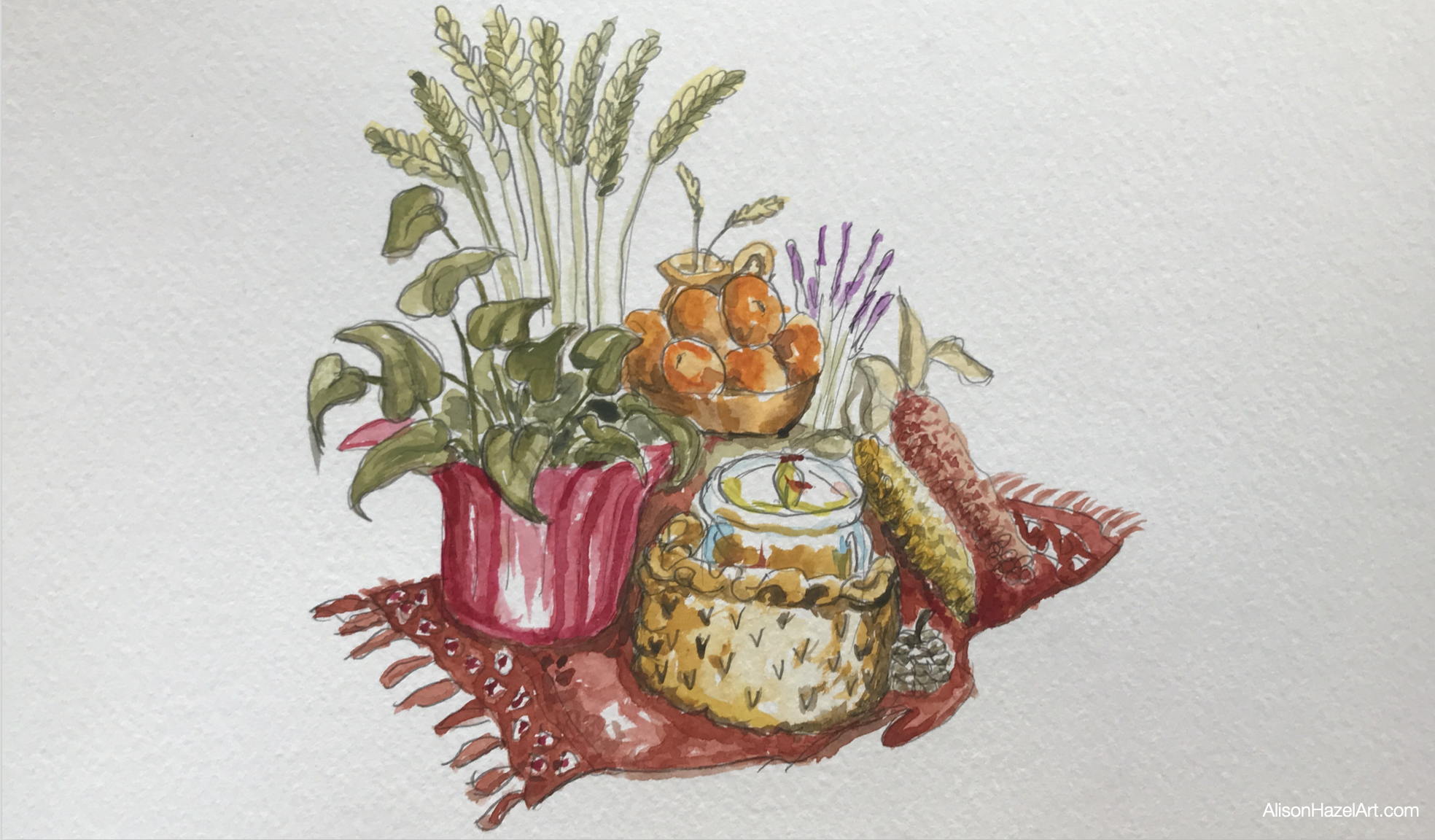 Thank You Keepsake
As a thank you, as the evening wound down, I gave my friends each one of my Winter Circles Neurographic Artist Trading Cards as a keepsake.
In the future, I plan to create other mini take home artpieces as momentoes of the event.
I may even encourage people to bring some to share too. Who knows?
Autumn Seasons of Art Meeting Roundup
I think our evening went well.
We enjoyed sparkling conversation in a safe and supportive environment and we created some original artworks together.
To open a space for creative growth is a wonderful thing.
A win for everyone.
Guest Feedback
"Thank you for hosting, it was a fun evening."
"Thank you for inviting me over and being such a lovely host."
More Details of the Seasons of Art Group
Weekend Evenings
We plan to meet one Saturday or Sunday evening from 6pm to 8pm each season, so we will get together four times a year.
The four seasons are Spring, Summer, Autumn and Winter so we plan one session every solar quarter which is three months.
Winter 2023 Date
The proposed date for the Winter Seasons of Art was for January, but it will have to be sometime in February.
I'll post the exact date when I have it.
If you are interested reach out to me here.
Where
Vancouver
Downtown Vancouver at Alison's place and later, when we get bigger, in a booked venue somewhere in Downtown Vancouver.
The Summer meeting could perhaps be in a park or at the beach.
Who
Hobby Artists and those who Journal
People who want to be creative.
The Vancouver chapter initially attracts people living in or near the downtown area.
What to Bring
Bring your pencil, pen and sketchpad.
You can bring your watercolors or other mediums.
Bring your open heart.
If you do forget your art gear I have some paper and pencils to share.
What Not to Bring
Please do not bring your dog.
What is Provided
A seasonal still-life arrangement to draw or paint.
Water pots for your paints and paper towels.
Background music.
Light snacks.
Tea, coffee, tap water or something else.
Why
Inspiration
To help people tap into their natural creativity perhaps through:
Art
Doodling
Drawing
Painting
Sketching
Art challenges like Inktober, AHAtober and Nature Journaling Month (every June)
Writing
Journaling

Bullet journaling
Travel journaling
Nature Journaling
Garden Journaling

Grimoires
Poetry
Lyrics
Prose
Writing Challenges like NaNoWriMo
Final Thoughts
I'm doing this as I want to build community for hobby artists and journalers.
I initially invited five people I know who do art and dabble to the first event.
I was delighted that two lovely warm and compassionate friends could make it.
I believe there is a future for this group and time will tell.
Let me know if this is something that interests you.
Love,
Alison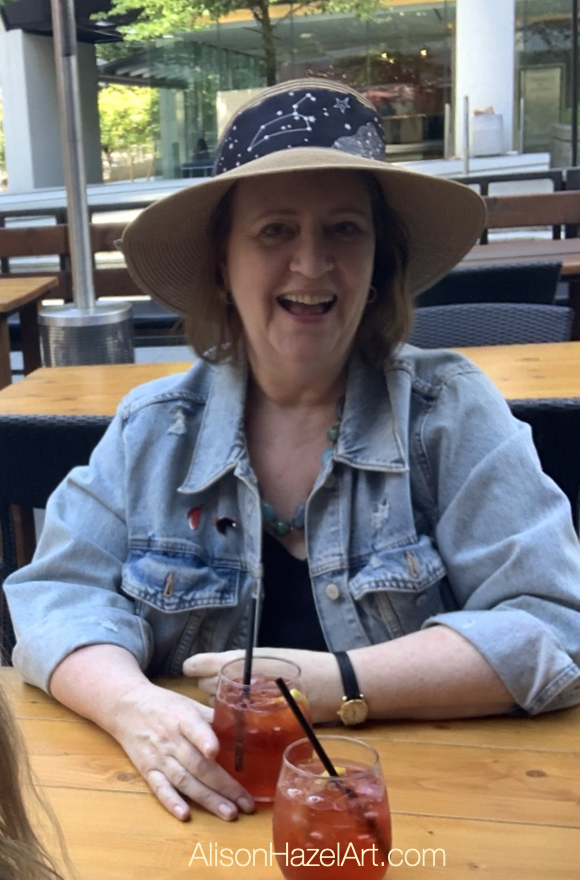 Author Bio
Alison Hazel shares her ongoing journey about becoming an artist later in life. She creates simple art that anyone can make.
She hopes to inspire you to reach your creative potential in the area that suits you.
Go here to read more about Alison's story.
If you want to send Alison a quick message go here.
More Articles
You may enjoy some more articles from our blog.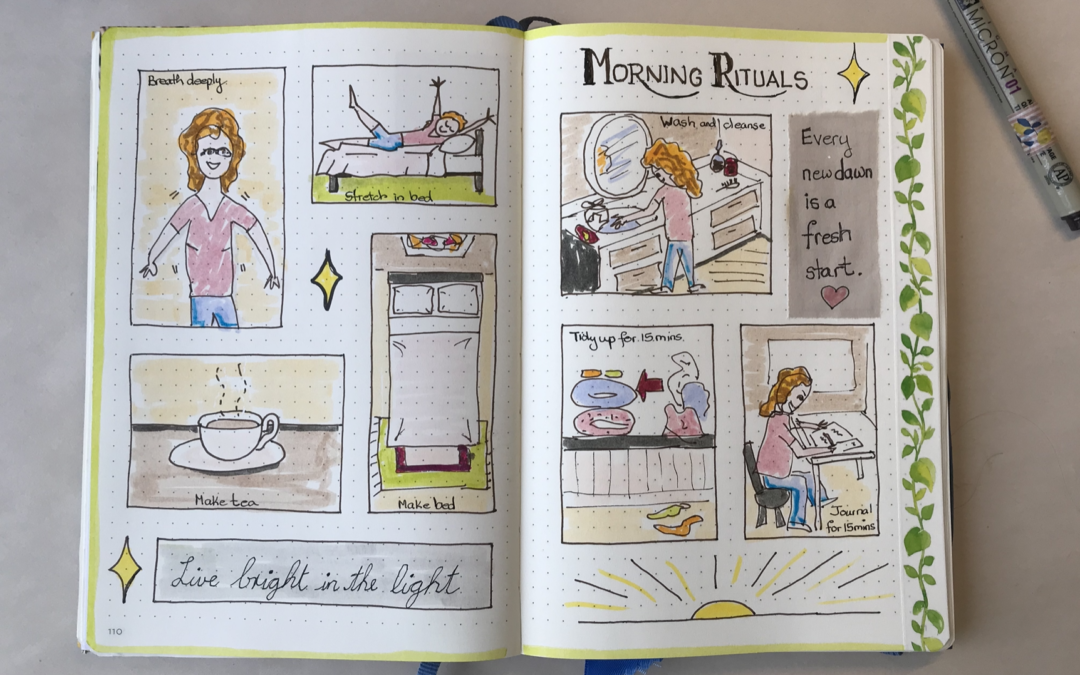 Get a glimpse into how one woman gets organized mentally, physically and spiritually for a creative and artistic day.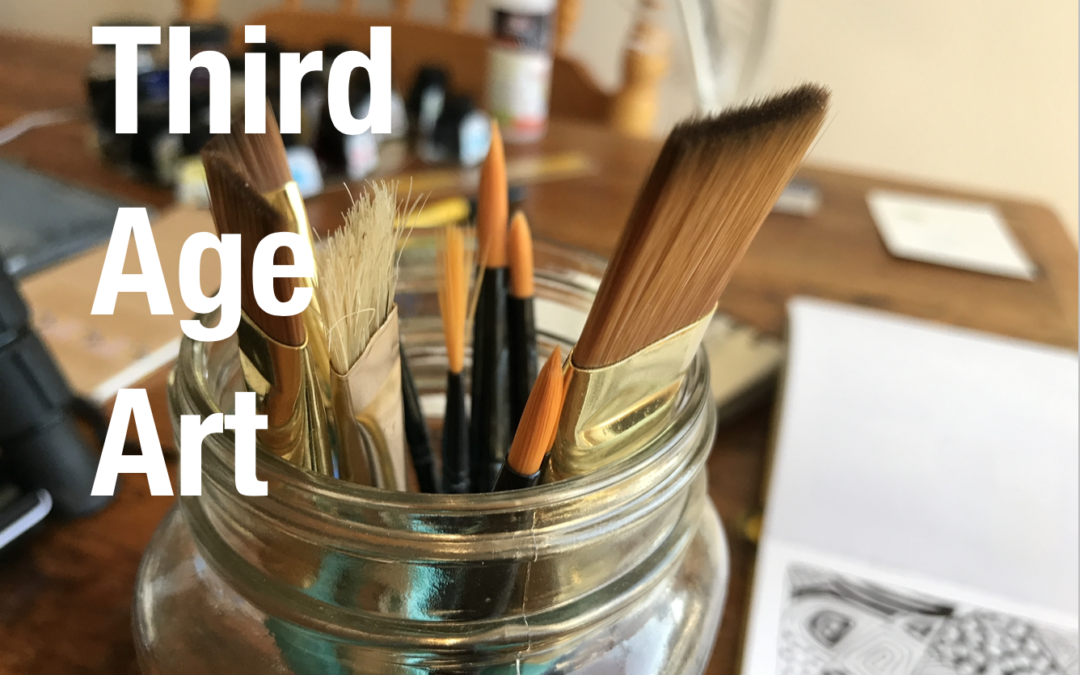 Get some ideas on finding your unique creative art expression as a woman in the Third Age of life through a journal activity.
Join us for the Seasons of Art weekly art/drawing challenge. See what you can do in your art life.