Introduction
I want to talk about getting a daily art practice going.
You may think you are not a good artist or perhaps you don't even consider yourself as an artist at all, but I urge you to accept that you are an aspiring artist.
My journey to being able to say I am an aspiring artist, or a beginner artist only came to me last year. On a whim, I attended an "Art Retreat" which was one day event at an art studio here in my city.
Before that, the last time I had drawn anything was as a kid at school although I had dabbled at an urban sketchers group on and off.
Art Retreat
Joining me at the art retreat were seven other attendees keen to get arty. We made our introductions over hot coffee and delicate pastries.
The morning session began with a Lino carving which was then used for roller printing. I managed to print a few cards with the cut out. This printing with paint was a really messy process and I'm not likely to ever do that again.
Next, we made a watercolor painting and please note that I had never used watercolors since I was a child many Moons ago.
Then the group worked an acrylic painting and I had not ever done acrylic painting before or even seen acrylic paint. This medium did not appeal to me as I thought it was plastic and therefore when washed down the sink would eventually get into the seas and the food chain. I'm still not quite sure about this, but I know I'm not keen on acrylic paint either way.
After a highly nutritious lunch of vegetables and fruit washed down with beetroot juice, we constructed a crafty seasonal foliage wreath from eucalyptus fronds. This was fun and the one I created still hangs in my studio (note I said studio and not sitting room, see I'm already seeing myself as an artist), although the wreath is now very dry and if you brush up against it bits fall off.
Additionally, we made a mini terrarium with a tiny succulent which unfortunately did not make it, but I still have the handy jar where I now store my washi tape.
I came home with all my treasured artworks, and I was inspired.
I shared my experience with anyone who would listen. It was all I could think about for days afterwards. It was a turning point in my creative life.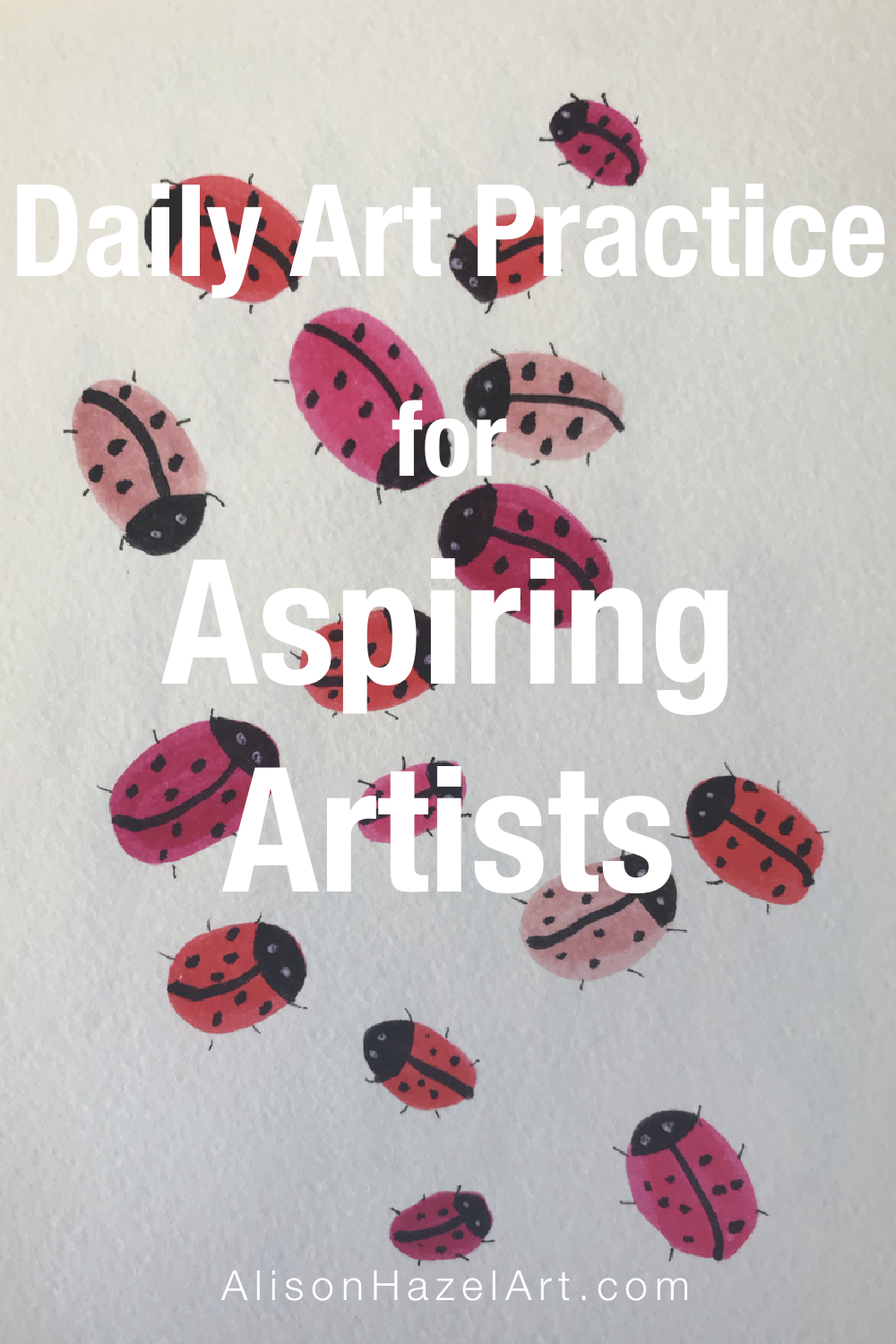 Showtime
The next week I opened an Instagram account to show off my drawings and then started this website. I had no idea what I was doing or where I thought this would lead, but I wanted to give my newfound art expression a place to live and breathe.
At first, I struggled to get a name for this website because I just wanted to share my art journey. I hesitated to call myself an artist. I mean, don't artists go to university and have degrees in fine art and five years training in all sorts of topics related to the craft? Who did I think I was?
But after quite a bit of thought and discussion with my daughters I realized I could call it "art" and actually added my name to end up with, Alison Hazel Art. This is the place where the art that Alison Hazel does is showcased, good or bad, big or small, juvenile or adult, skilled or not.
I post my art because it is where I am right now in my art journey. I could have waited for another five years before I felt I was good enough or received a certificate from a great art institution to say, "she is an artist," but I chose to be who I am today.
This is why I share what I'm doing in my art life and the type of drawings, painting and sketches I do.
I urge you to as well.
Alison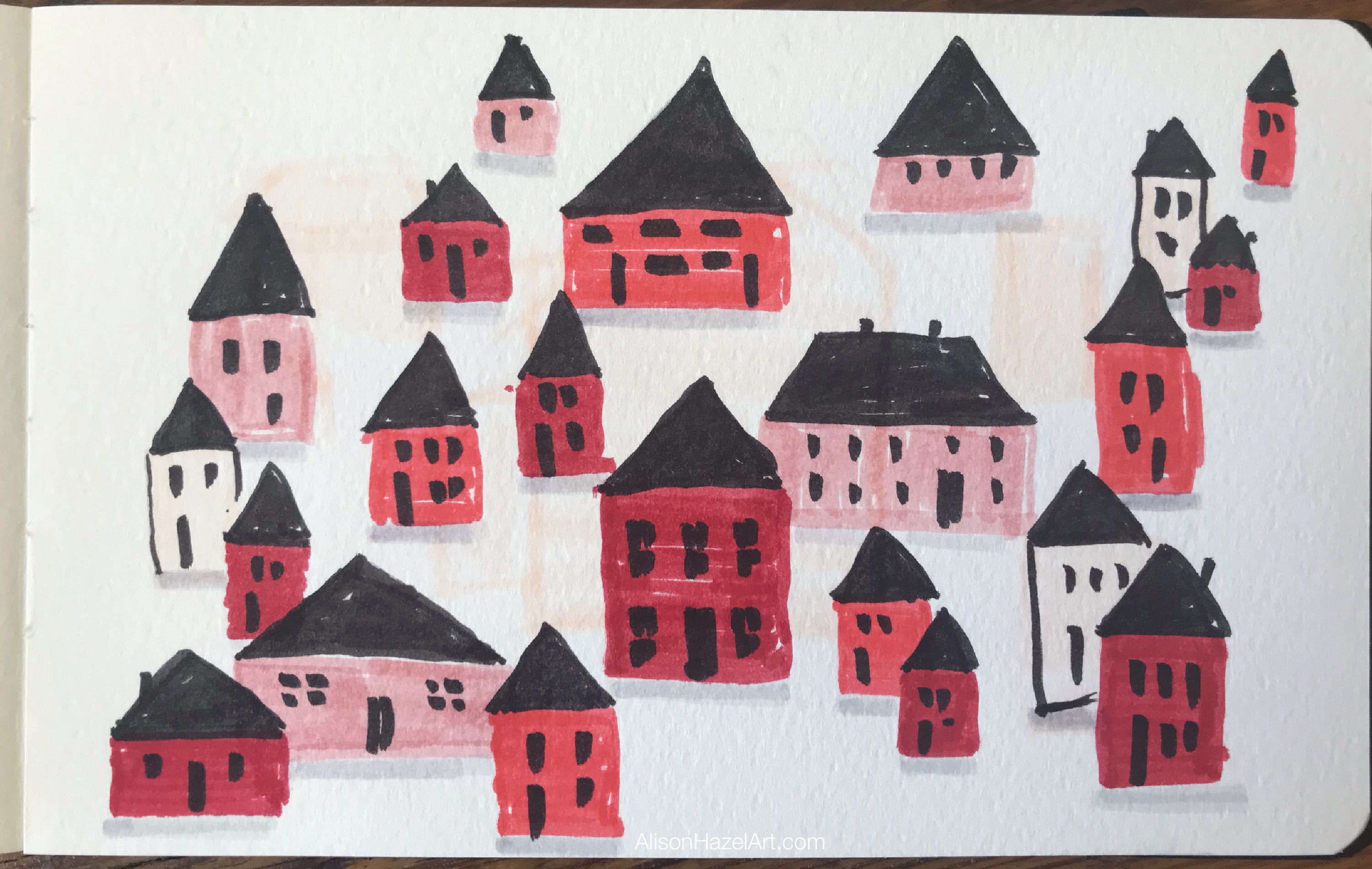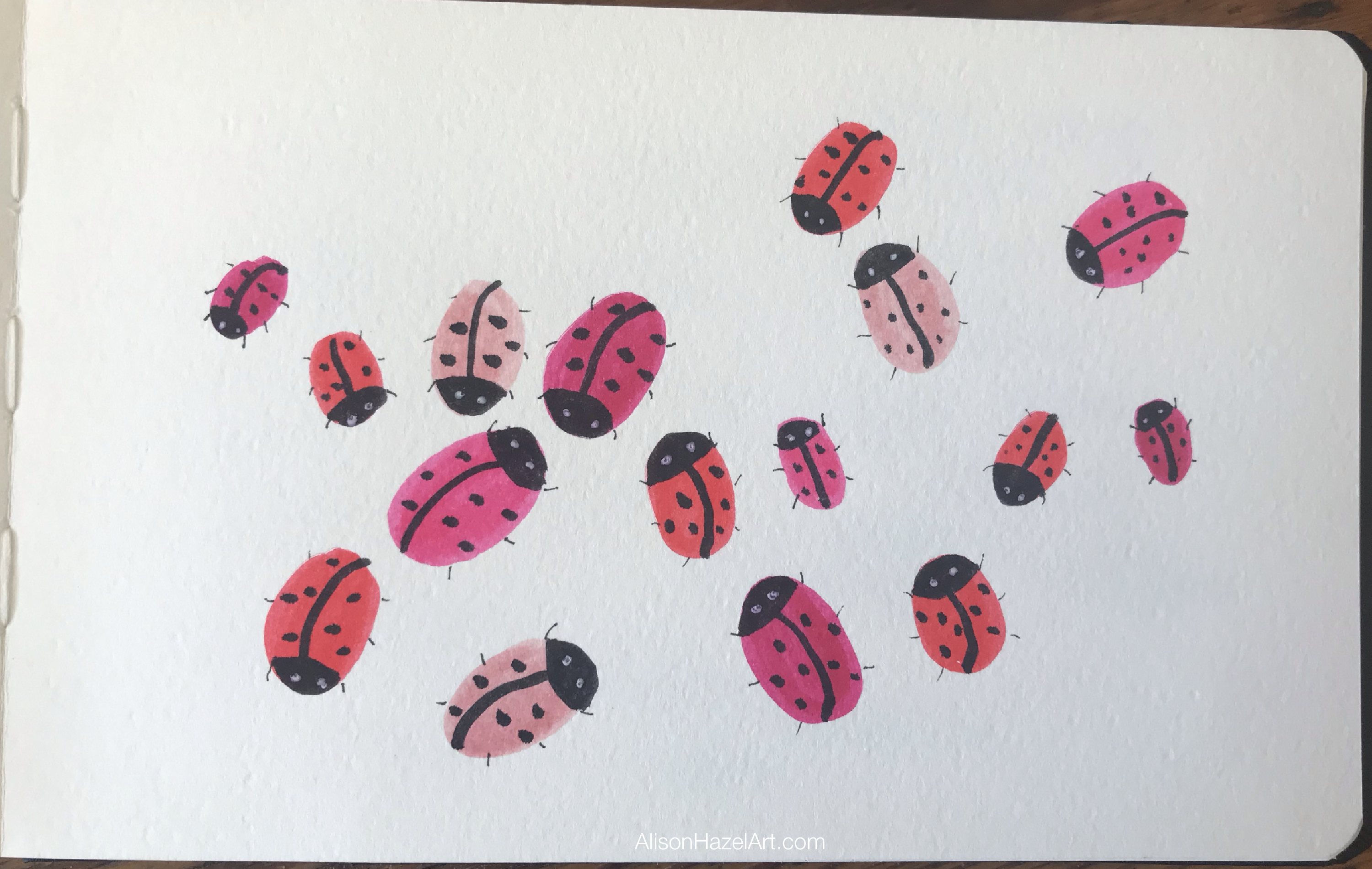 Daily Art Practice
I know that to get better I have to practice. I may take a few more classes on art, I mean, why not? But there is no rush.
Having bought a couple of sketch books in different sizes and with a variety of papers, I now can dabble to my heart's content.
This summer I'm aiming for daily art practice. For me this means doing a drawing, sketch or painting every day.
It will typically be a small art piece. I plan to put aside half an hour each morning to build this habit.
I prepare myself the night before by opening my sketchbook at a blank page and placing it on my desk ready to go.
I'm never sure what I will draw or which medium I will choose but that's okay. It just happens that I reach for my pencil, markers or crayons and start.
So far, I've drawn little groups of houses, ladybirds and now fish. They are all simple and quick to do but I love how they work out. This seems to be a series of drawings that take a simple shape, a limited palette and black details. Simple.
I know they are not masterpieces and will never hang on my walls, but they are a testament to the path I am taking as an aspiring artist.
Consider developing a daily art practice, or any art practice, which suits you.
Have a creative day.
Alison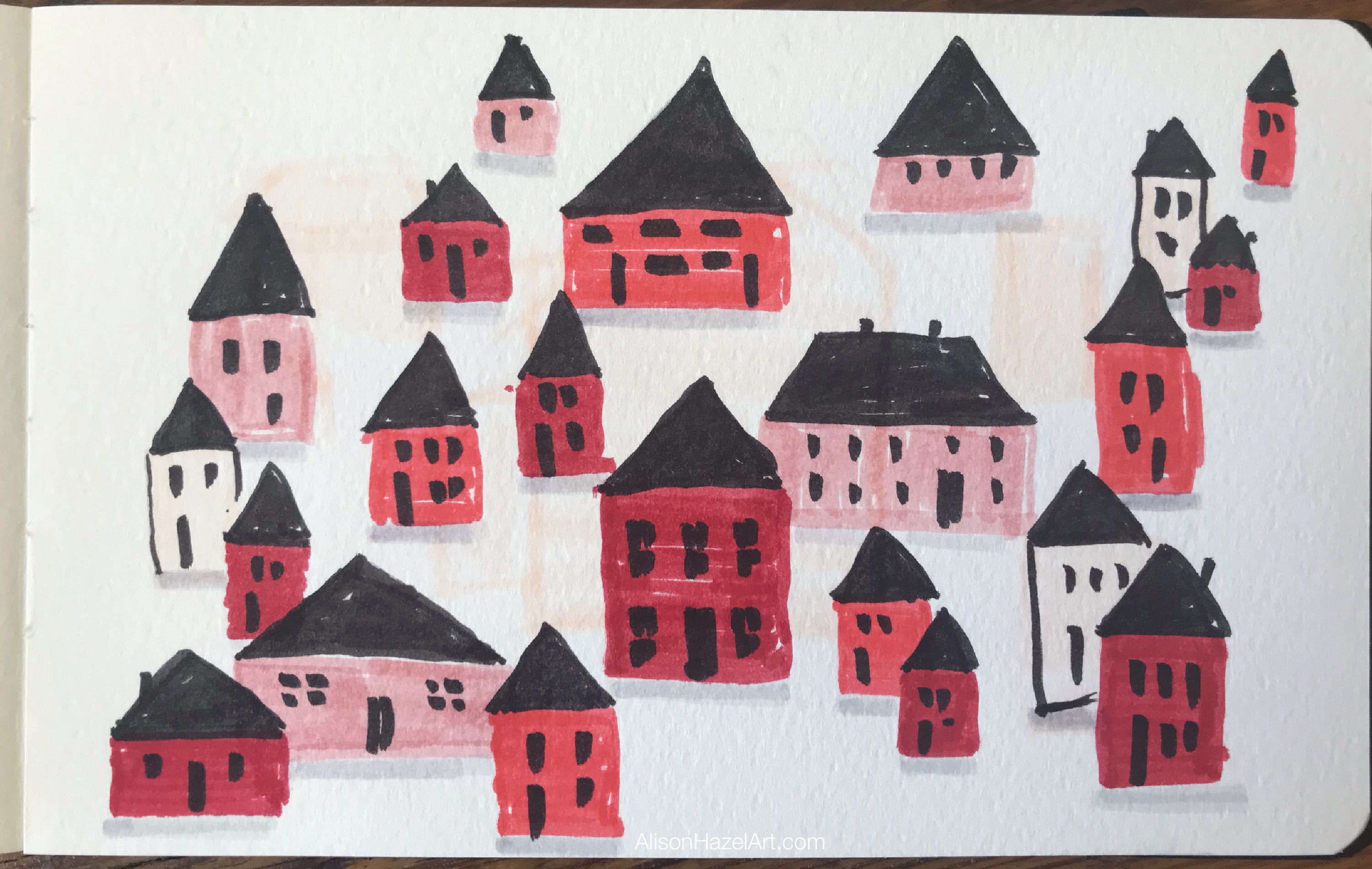 Aspiring Artist Activity: Daily Art Practice
In your sketchbook, or a variety of sketchbooks, please do the following:
Select markers or colored pencils from one color group like maroon, red and pink or navy, blue and turquoise.

With the darkest color, draw simple shapes in different sizes, for example, squares (for houses) or ovals (for ladybirds) or vesica Pisces (for fish), then draw some with the mid color and finally the lightest color.

With a black pen, add the details to finish the shapes off and bring them to life.
Share on social with the hashtag #AlisonHazelArtAspiringArtist, so we can see the creations from your heart.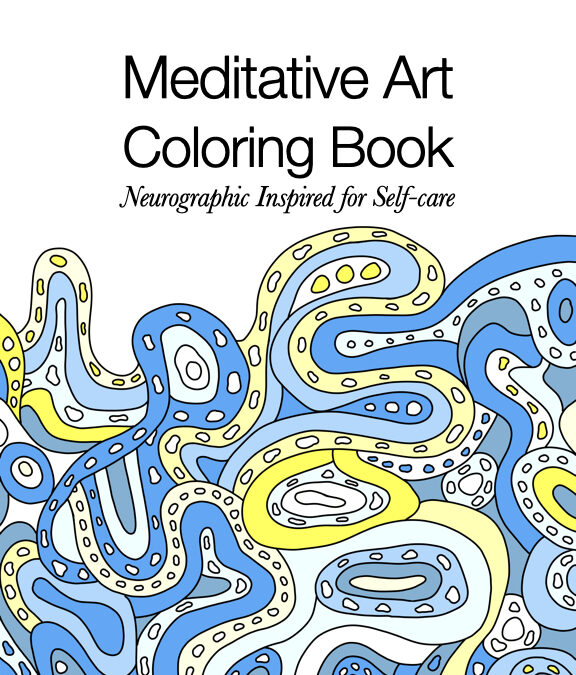 Meditative Art Coloring Book (Blue) I am delighted to announce that I have published a meditative art coloring book with 52 original artworks...
read more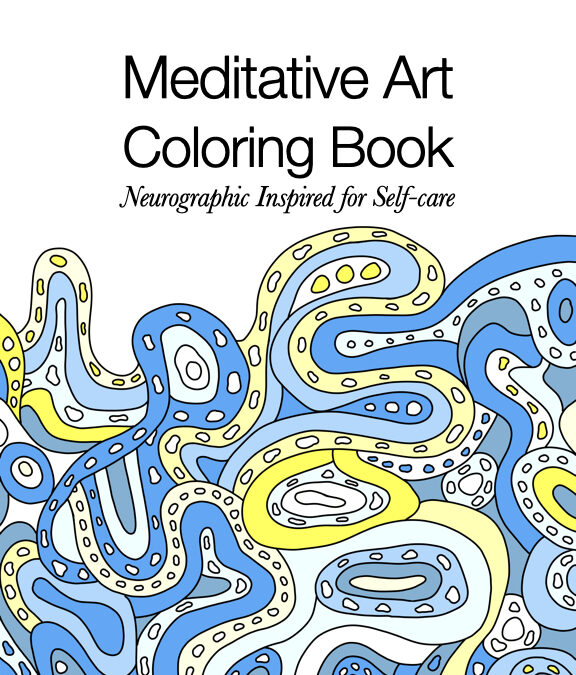 Meditative Art Coloring Book (Blue) I am delighted to announce that I have published a meditative art coloring book with 52 original artworks...
read more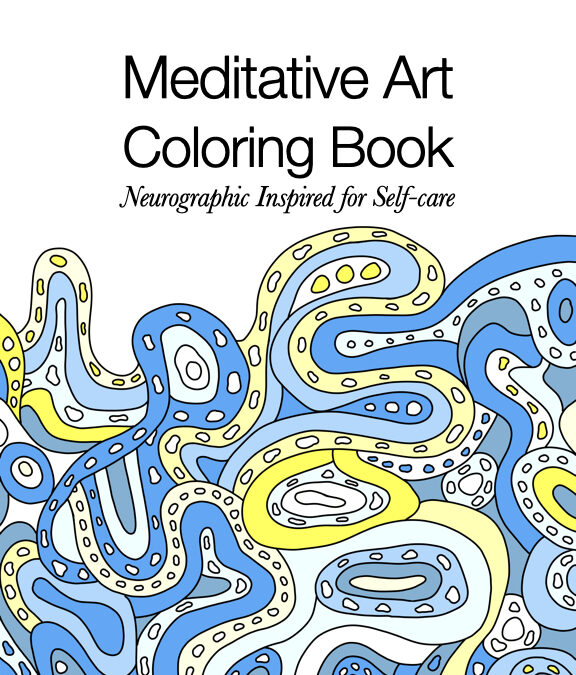 Meditative Art Coloring Book (Blue) I am delighted to announce that I have published a meditative art coloring book with 52 original artworks...
read more