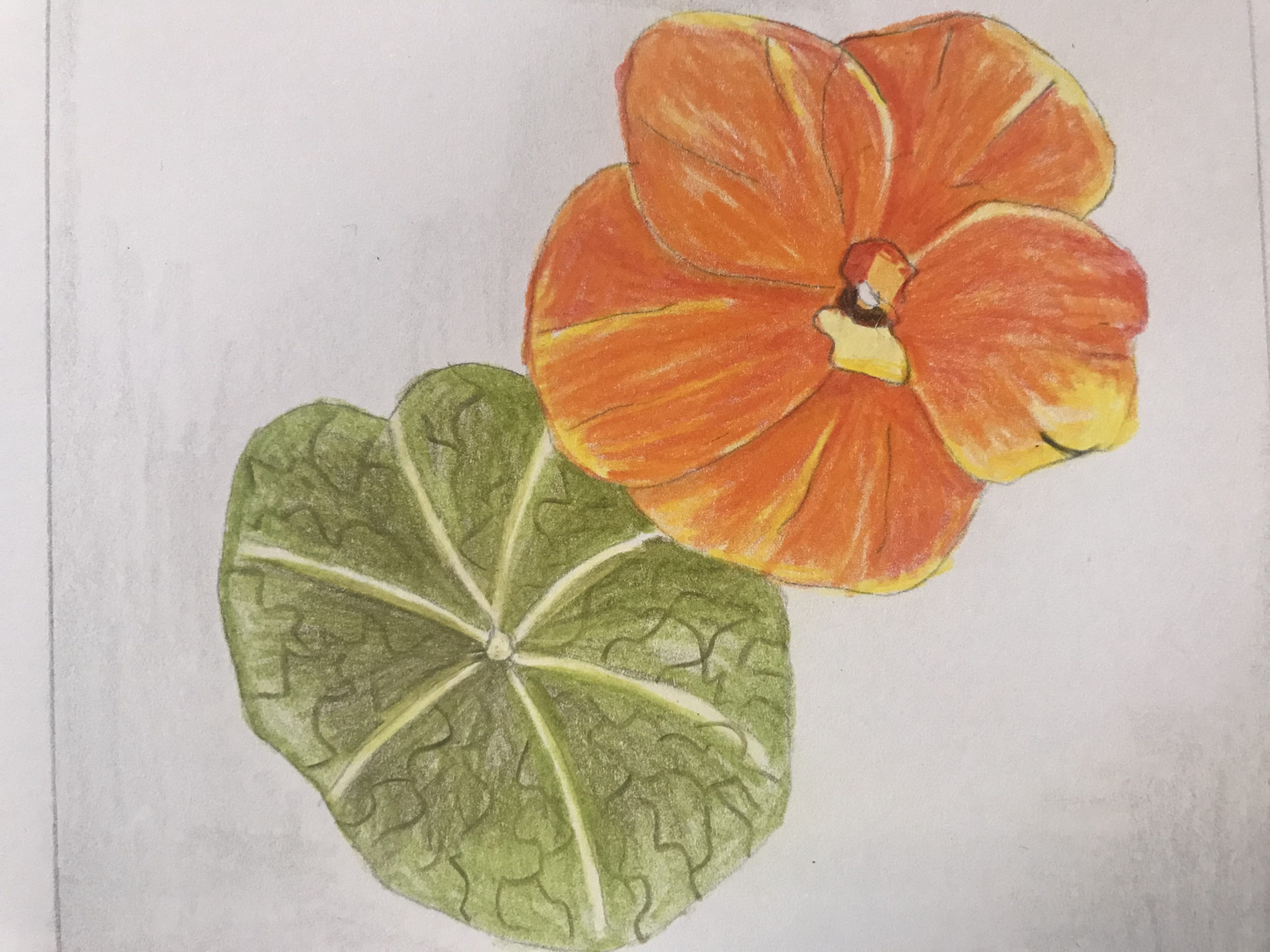 "Nasturtium, Love Conquers All" – Pencil Crayon – Weekly Sketchbook Art
Nasturtium
This week I've drawn a bright orange nasturtium flower in pencil crayon in my sketchbook.
[embedyt] https://www.youtube.com/watch?v=eC5XUESMpK8[/embedyt]
For flower reference pictures, I reached for my go to handy dandy book, "The Secret Language of Flowers" by Samantha Gray.
Back in the day the Victorians would give a posy of flowers that held a secret message through the meaning of each flower within the bunch.
Nasturtium means, "Love conquers all."
So, I expect that nasturtiums would feature in a bouquet given when a couple was having a difficult period and perhaps, they had to overcome some minor differences that crop up all the time, and the pair went back to basics with the secret bloom that said, "Love conquers all."
So romantic.
My Process
First, I drew a border of 10mm around the page to help frame the finished artwork.
I drew my composition with a 2H pencil the flower and one leaf as I decided not to draw two flowers.
Then I added light shade with warm grey II under the petals and in the center of the leaf.
I lightly added some cream on the leaf veins and the lower edges of the petals.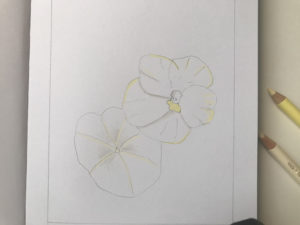 Next, I used cadmium yellow and started to build up some color on the outer petals.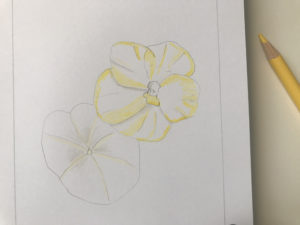 I continued to develop the petals with chrome yellow and orange glaze over more of the petals.
I tried to keep the strokes in the nature of the petals vertically from the center of the flower.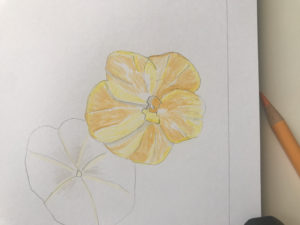 I began fleshing out the leaf with earth green yellowish and olive green more in the middle.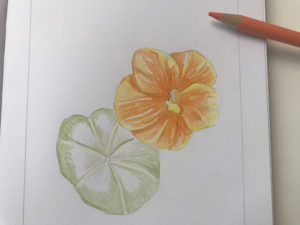 Back to the petals with heavy scarlet red and a light polish of deep red.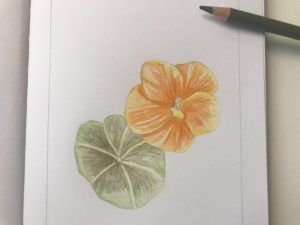 Finally, I went in again with orange glaze all over the petals to provide more coverage and I added the wiggle on the leaf with a very sharp chromium green colored pencil to provide the texture of the crumpled look of the leaf.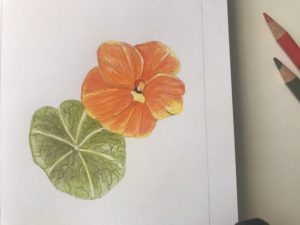 The background is a very light diagonal flow of warm grey II.
Label
Because I only ever draw on the right-hand page in my sketchbook, so each drawing has no bleed from behind, I added the main title on the left-hand page.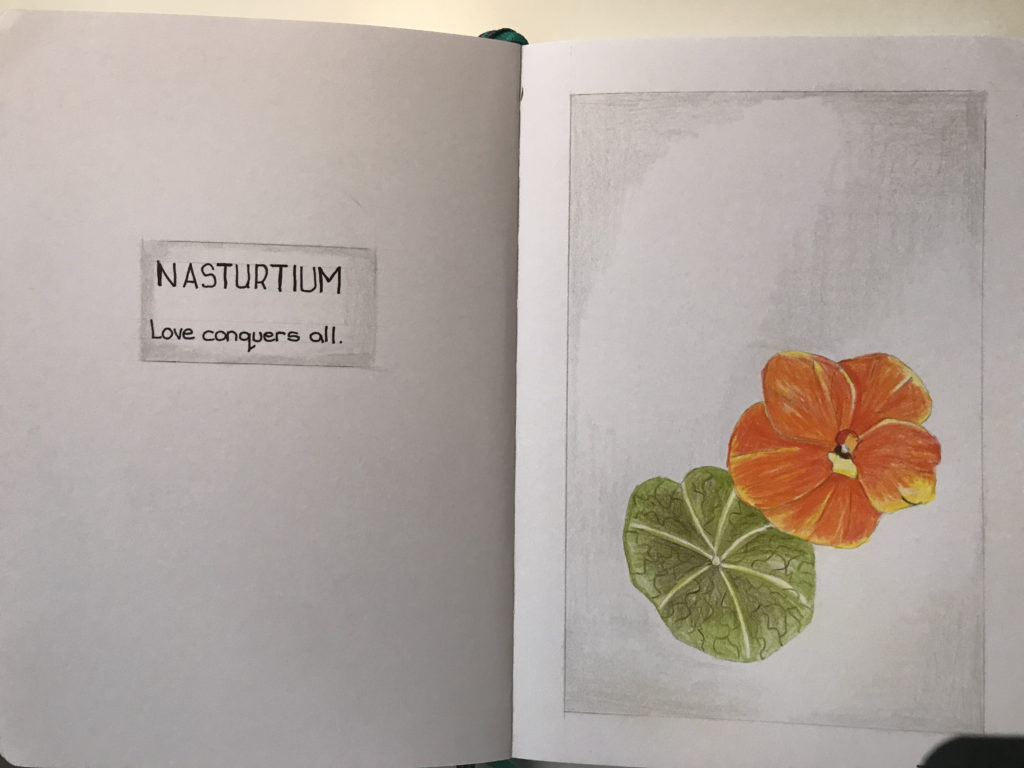 In the title block I wrote the words, "Nasturtium, Love conquers all."
Finishing off by signing my name and the date.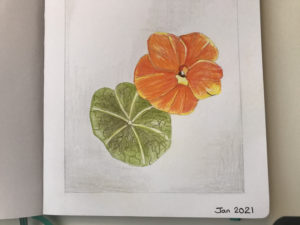 The completed artwork.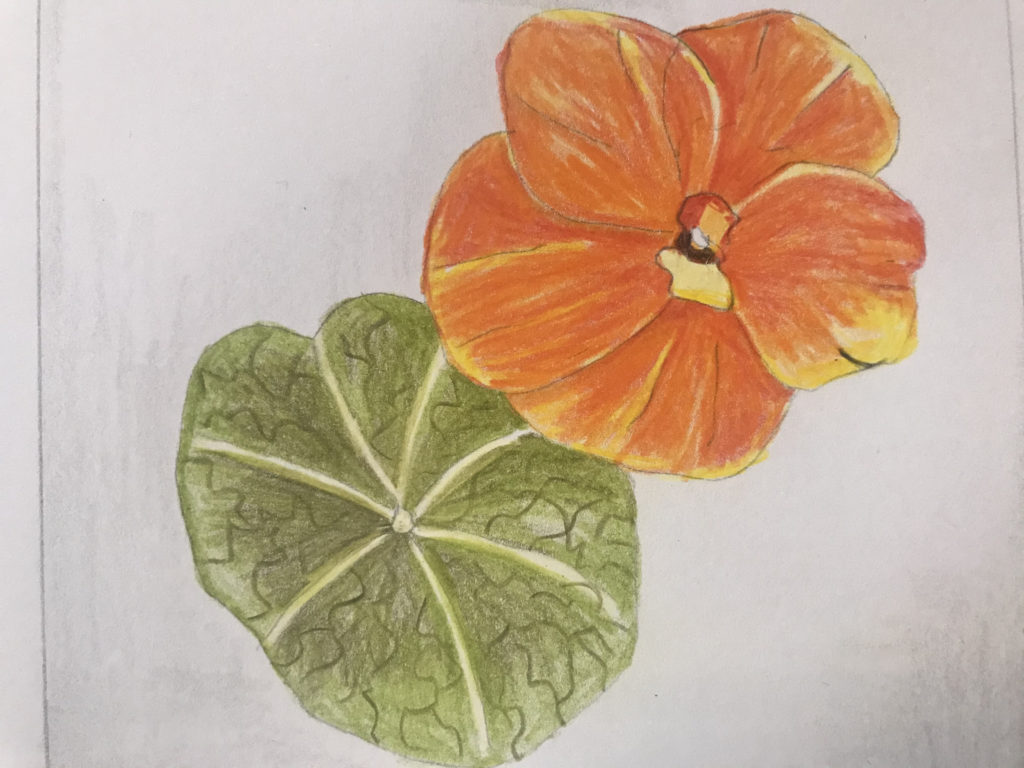 Question
Do you draw weekly sketchbook art?