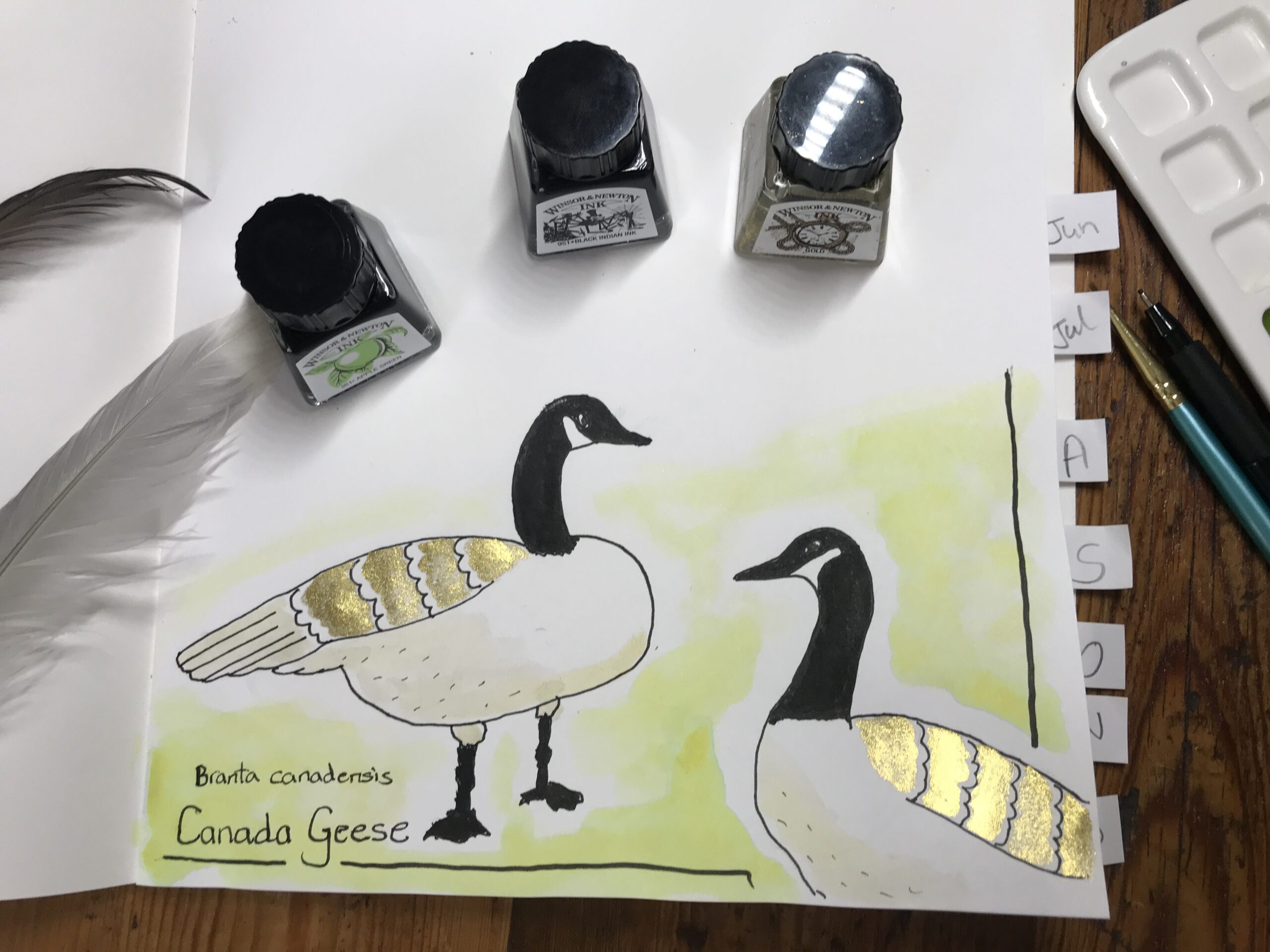 This week I went to the beach where the protected waters of English Bay laps desultorily at the coast in Vancouver.
Just behind the foreshore and promenade is a well manicured strip of parkland comprising grass and flowers to enhance the nature beauty of the area.
It is here that the Canada geese gather or is that flock?
How many do you need for a flock?
Field Sketchbook
I had my travel field notes sketch journal and a pencil and the.
The plan was to draw the sea, but I did quite a few sketches of the geese.
Here they are swimming in the sea.
I'm not very good at drawing people and animals,so I thought it would be a challenge to sketch some geese for my new perpetual nature journal.
In ink
Here are some pencil sketches I did on location at English Bay in Vancouver.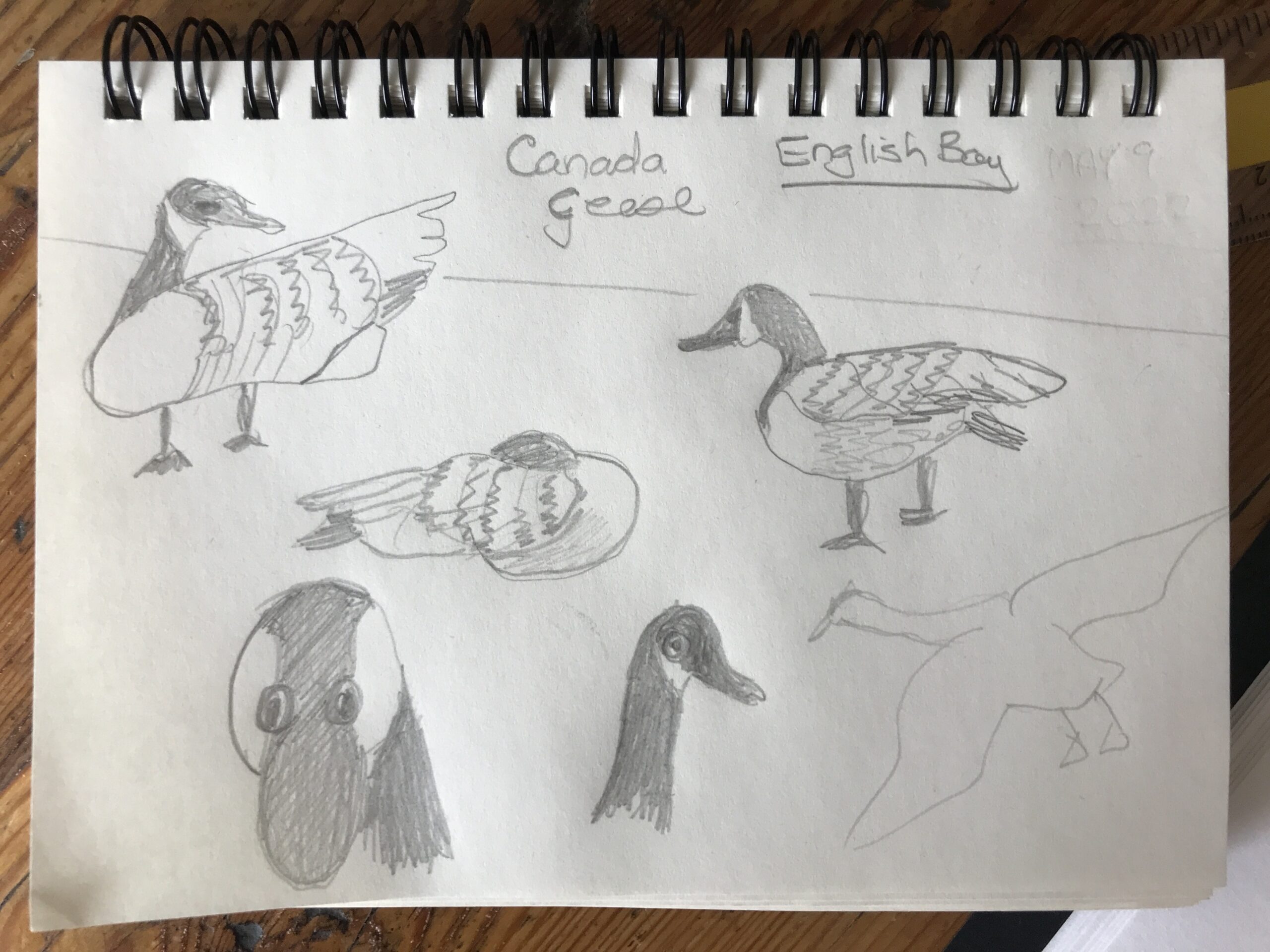 Studio Sketch
Next, when I got home,I looked at more free images from the web of geese.
I sat down in my creator studio and attempted to draw the geese again.
I tried to sketch a few poses.
After three attempts I did one in my perpetual nature journal.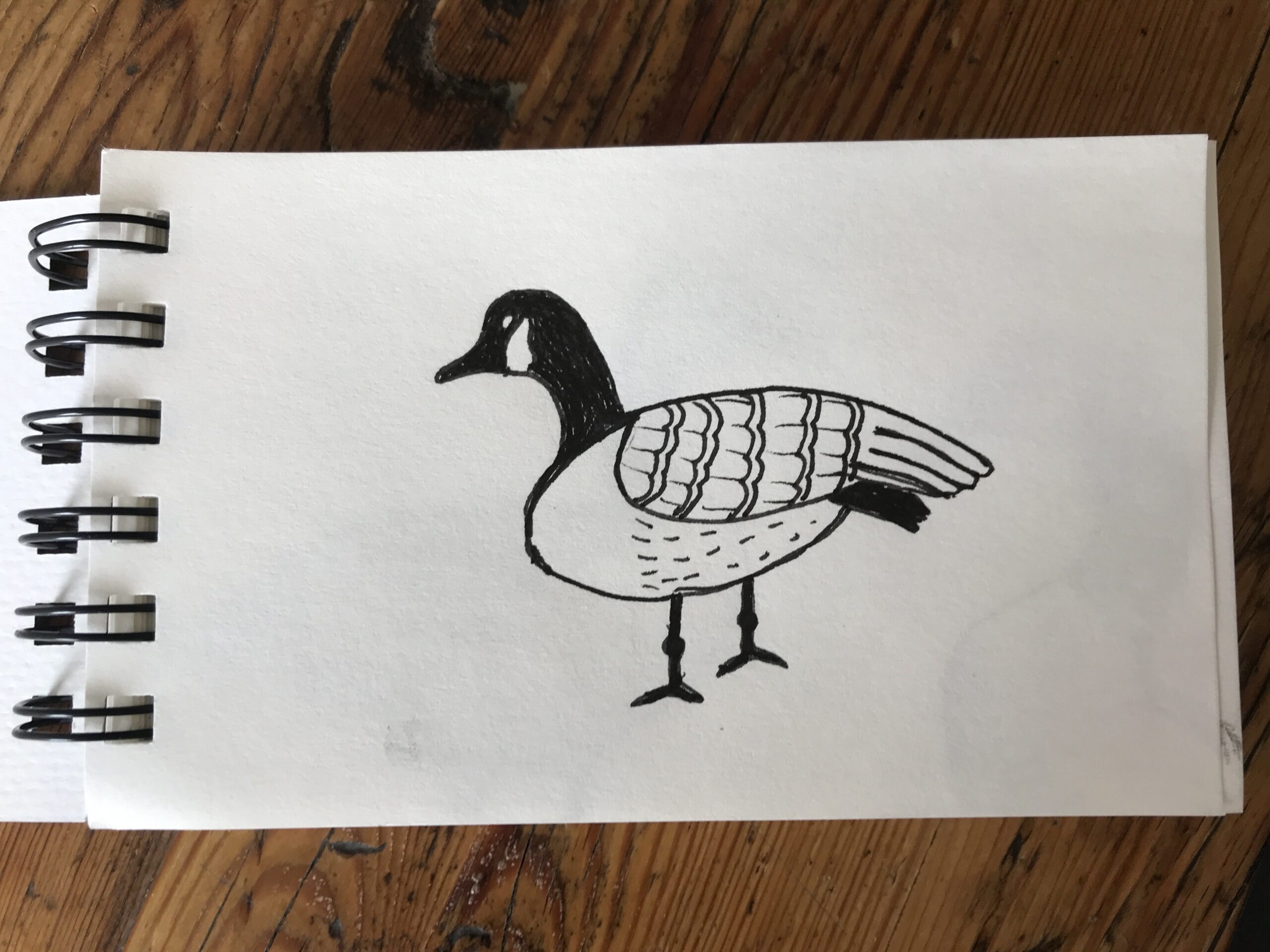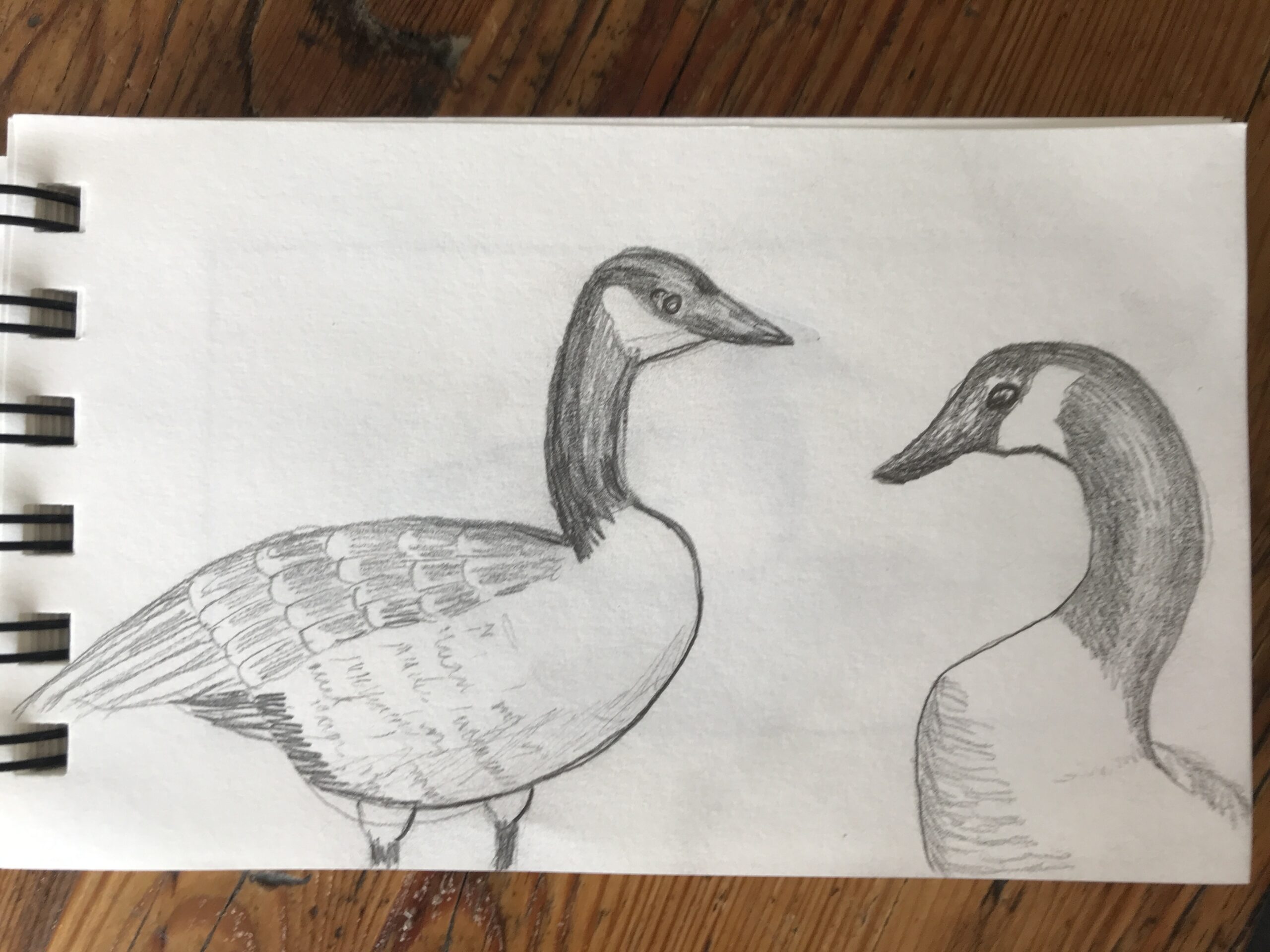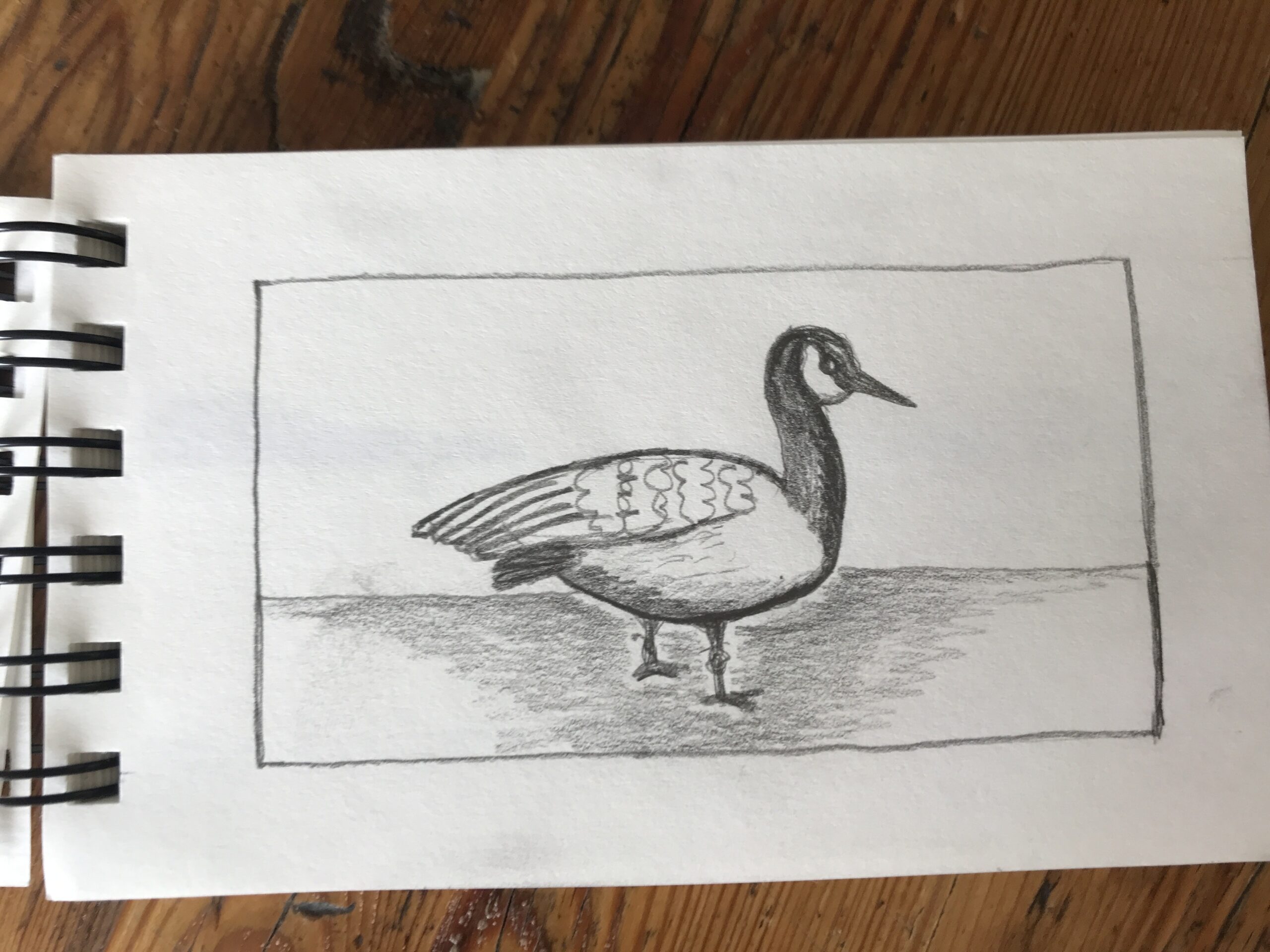 Pencil Sketch
First the pencil sketch. I'm using a 2H hard pencil and drawing lightly.
The back feathers have a beige look with white curved edges.
I tried to replicate this with my pen.
Pen
Next I went over the outlines with a black pen.
It is the Faber Castell Pitt Artist pen in a 0.1mm nib.
Black Ink
Then it got out my black waterproof Indian ink from Windsor and Newton.
I painted the neck, beak and legs making sure to keep the cheeks white. The legs have knobbly knees and duck feet.
Gold Ink
As I wanted to try out my gold ink, and I do love a bit of bling on my artworks.
With a very thin brush I painted the back feathers in with shimmer.
Yellow Ink
For the soft underbelly I wanted a light taupe beige.
I'd decided to water down some canary yellow ink with a minuscule dash of black.
This was very thin and created a light beige.
I painted the underside of the fowl to add some dimension to the body.
Green Ink
For the background grass I blended apple green ink with sunshine yellow and thinned it with water.
Naming the Birds
I wrote the Latin name for these birds Branta canadensis underneath and also Canada Geese.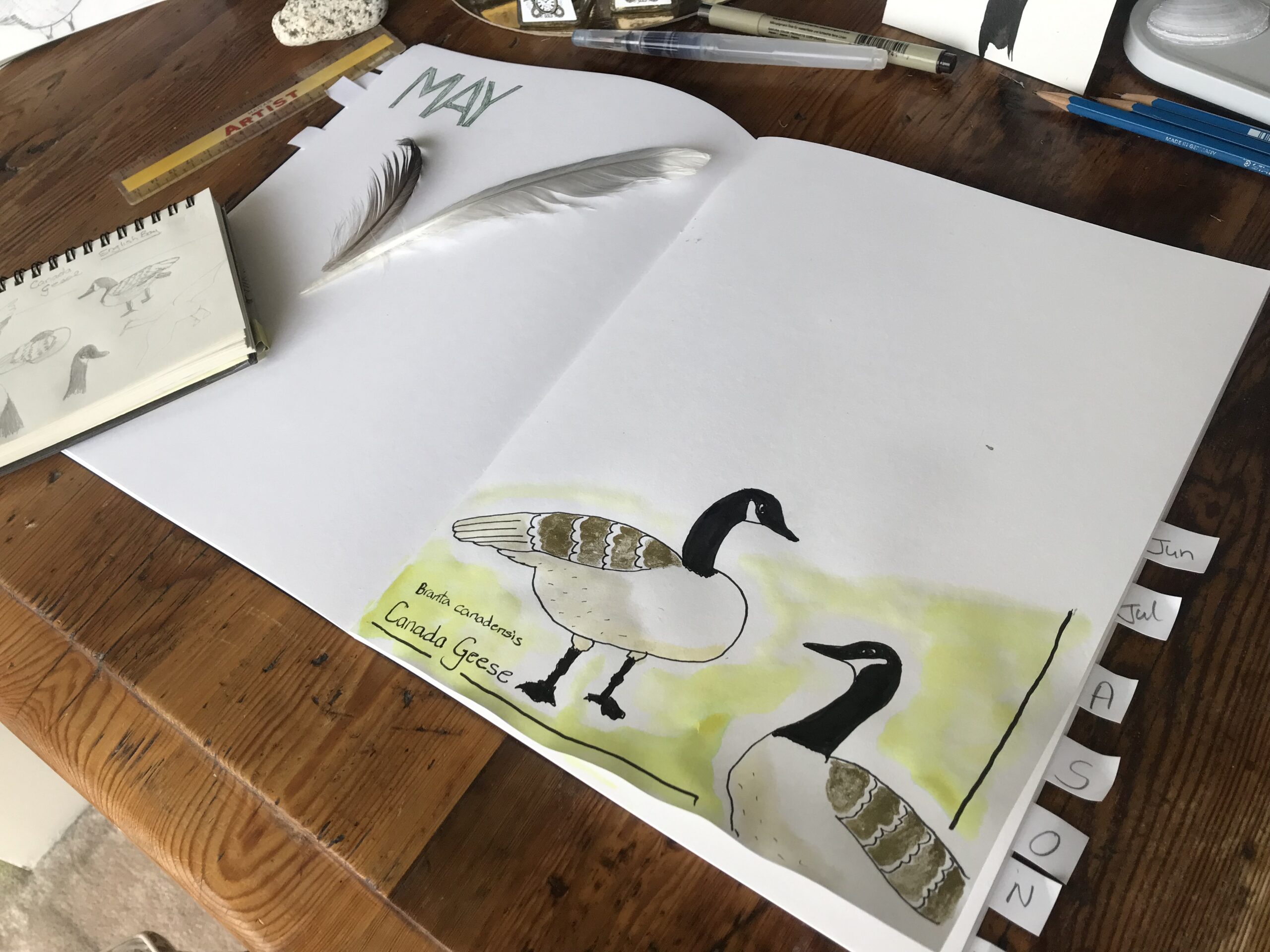 Vancouver Nature Map
On a separate piece of paper I drew the map of Vancouver and the surrounding 10km where I live.
The plan is to add a little icon of each Natur Journal sketch on the map in the place where I drew the image.
This will grow in the future as I really get into nature journaling.
Finished Artwork
I really enjoyed creating this nature drawing in ink in my Perpetual Nature Journal.
I've only started nature journaling earlier this month and so far I'm loving it.