Meditative Art Coloring Book (Blue)
I am delighted to announce that I have published a meditative art coloring book with 52 original artworks crafted by myself.
I have enjoyed creating each artwork for you and this has been a labor of love.
This is now available at Amazon on this link.
Introduction
"The Meditative Art Colouring Book: Neurographic Art Inspired for Self-care" represents the initial release in a series of adult coloring books created by artist Alison Hazel.
It's important to note that this particular book is designed in a captivating shade of blue, and there are plans for additional editions in various colors to be introduced in the near future.
Self-care
These artworks are carefully designed to support your mental well-being and personal self-care journey.
As a part of your self-care routine, consider selecting one image per week.
By incorporating these pages into your artistic activities alongside other projects, they can be valuable tools for exploring and refining your preferred color palettes.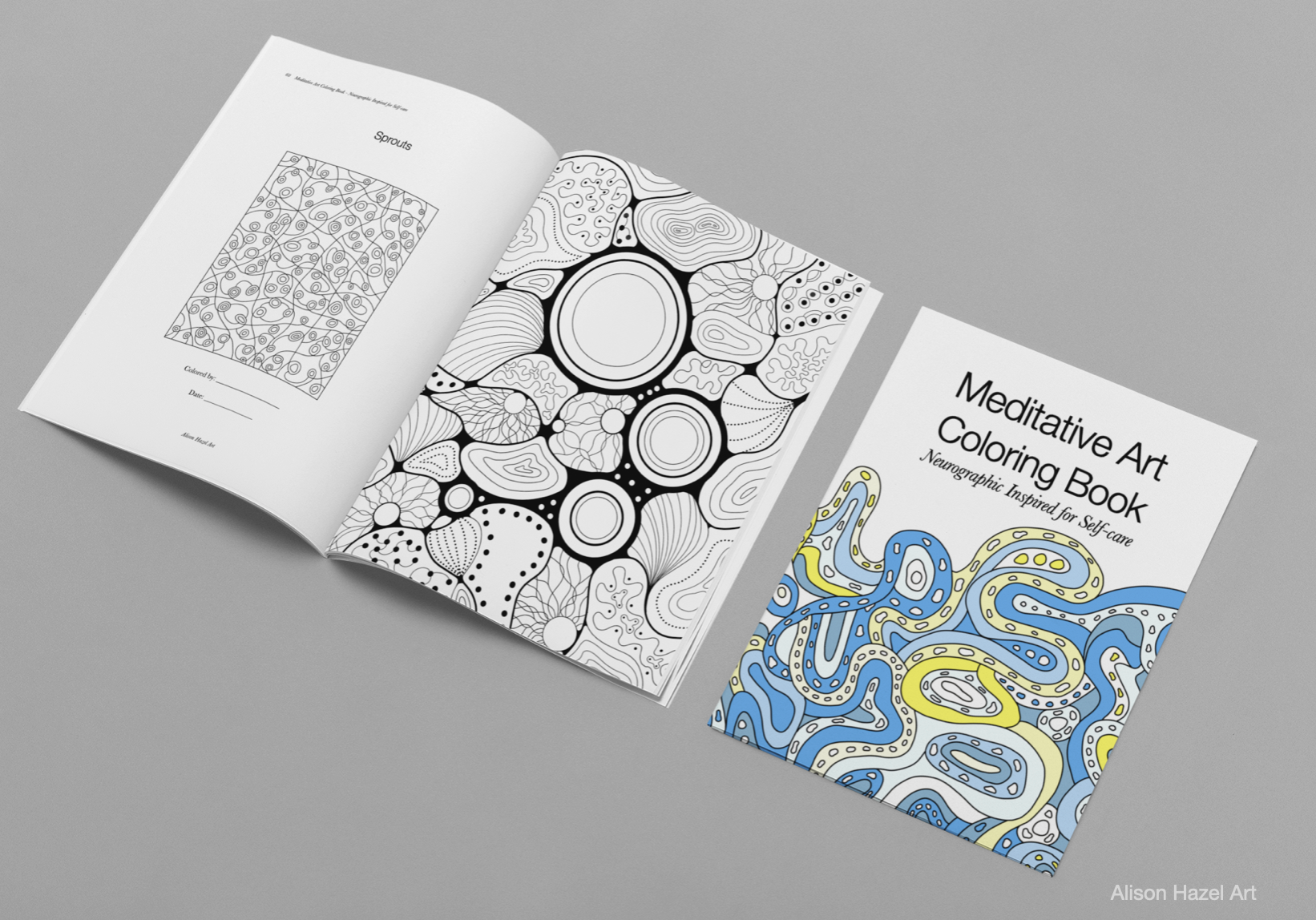 Explore
Delve into the images within this book for inspiration that ignites your unique artistic expression.
These pages can serve as springboards, propelling your imagination towards new and exciting ideas in your personal creative journey.
Artworks
Within the pages of this book, you will discover a collection of 52 unique artworks skillfully crafted by Alison Hazel.
This equates to one stunning piece of art for every week of the year.
Each of these beautiful creations is presented on the right-hand page, and on the following page, you'll find a smaller version of the artwork where you can personalize it by adding your signature and the date of your artistic endeavor.
This thoughtful touch allows you to make each piece your own as you embark on your creative journey.
Display
You have the option to carefully detach each page from the book and frame it, creating a wonderful opportunity to adorn your walls with your favorite artworks.
Teachers
For educators, whether you're working with children or adults, you have the flexibility to separate the pages of this book.
You can distribute one page to each child in your class or provide one image to each person in your adult teaching sessions.
This approach enables everyone to engage with the artwork individually, making it a versatile resource for both teaching and learning.
How To Use This Book
Coloring
Color the images in the order that speaks to your preference.
It's worth noting that certain images are more intricate, so they may require additional time and attention to complete.
Neurographic Principles
Several of these images incorporate principles of neurographic art such as:
The neurographic line
Circles
Connectors
Lines extending from one edge to another.
In fact, a chosen set of these images symbolize the synapses that form when you forge new pathways in your brain through creative expression. 
Color Palettes
Before you start your coloring journey, take a moment to contemplate your color palettes.
You might consider employing a restricted palette as a creative challenge.
For instance, you could opt to color one page using only three colors like red, blue, and yellow.
Alternatively, you could immerse an image entirely in shades of green.
Give yourself the freedom to delve into the rich and vibrant realm of colors, allowing your artistic exploration to flourish.
Hobby Artist
For those pursuing art as a hobby, these pages can serve as a valuable resource.
You can incorporate them into your creative repertoire, using each artwork as a warm-up exercise to flex your artistic skills before you plunge into your main projects.
Children
These coloring pages are designed to be enjoyable and engaging.
While they were initially crafted with adults in mind, they can certainly be appreciated by children too.
Feel free to involve your kids in these pages, offering them a chance to join in the creative fun.
Layout Painting
Once you've discovered an artwork which truly speaks to you and have colored it to your liking, consider using it as a foundation, a kind of preliminary sketch, for a larger painting you wish to craft independently.
You have the freedom to choose your preferred medium, whether it's colored pencils, markers, watercolors, or acrylics.
The choice is entirely yours, allowing you to explore your creativity in the way that resonates most with you.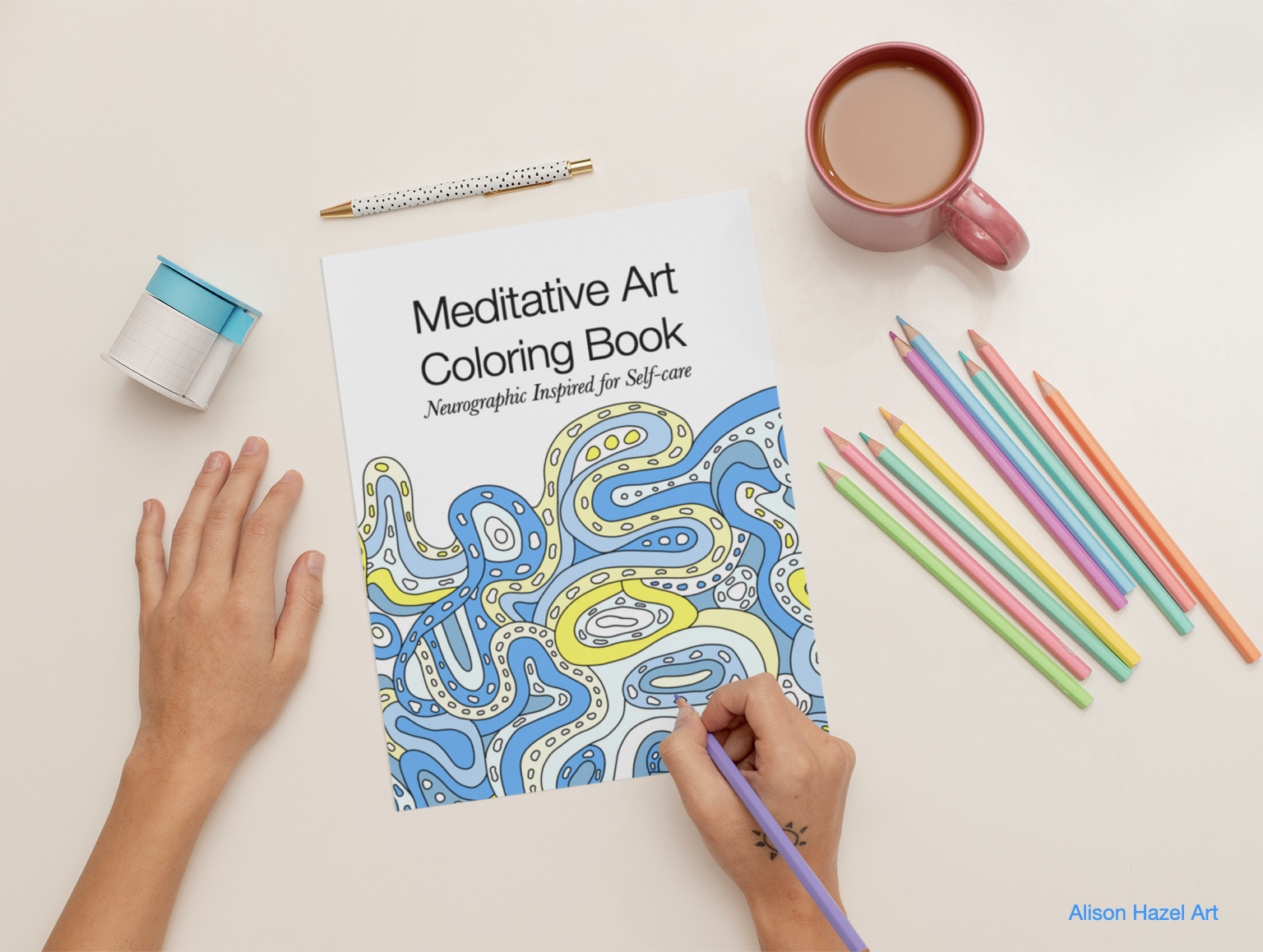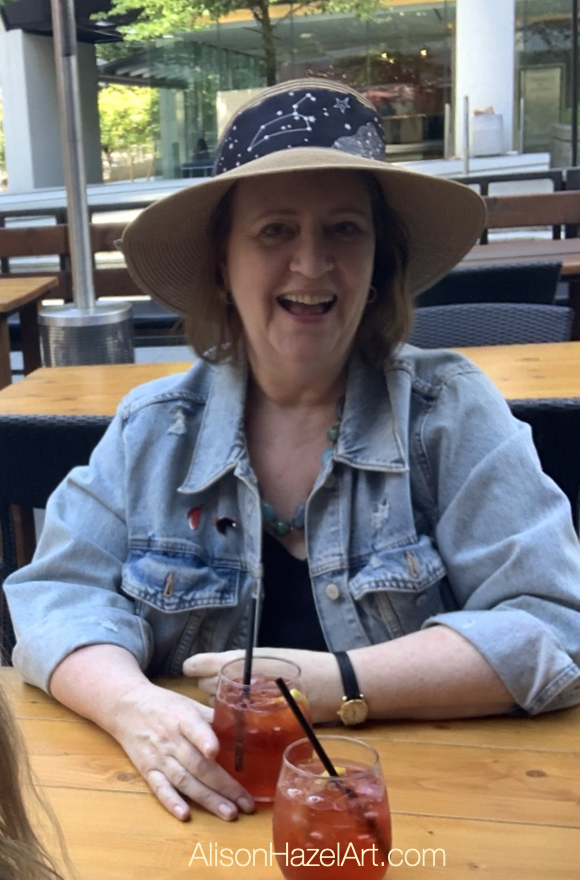 Author Bio
Alison Hazel is a mature woman who shares her ongoing journey about becoming an artist later in life. She creates simple art that anyone can make. She hopes to inspire you to reach your creative potential in the area that suits you.
Go here to read more about Alison's story.
If you want to send Alison a quick message go here.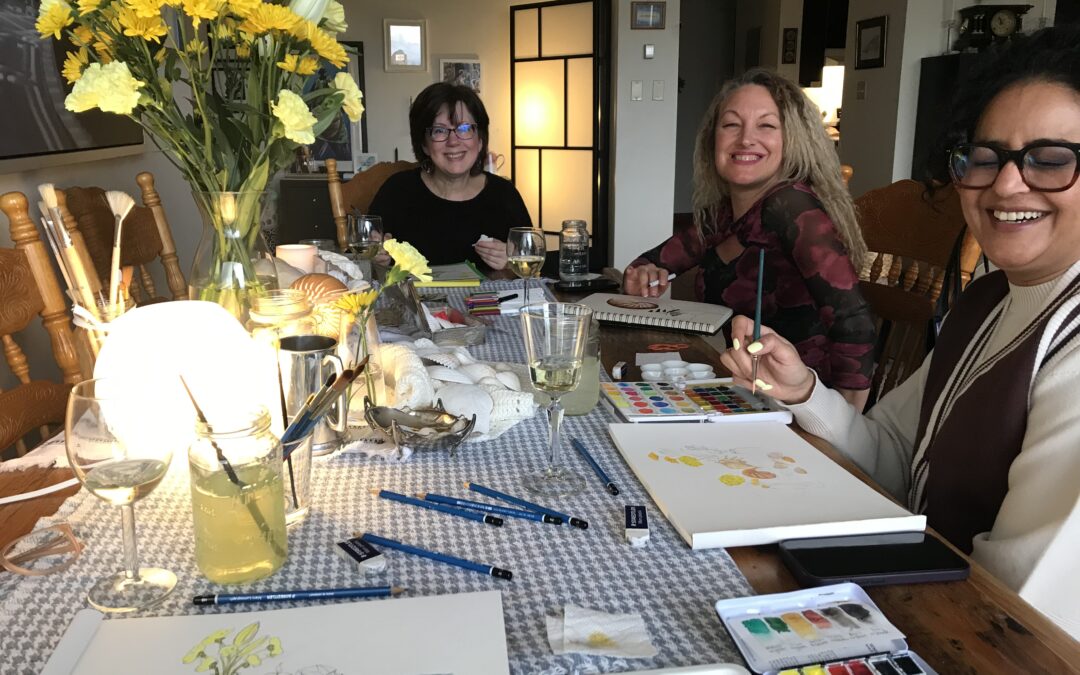 Seasons of Art: Spring 2023 Group Meeting Learn more about the recent Seasons of Art group meeting. See more about the Seasons of Art group here. Satvvir's Artwork Below is Satvvir's artwork (Instagram @theambivertsbb). She used watercolor and combined orabges...
To win at NaNoWriMo you must write 50,000 words during November which could be a solid foundation for any type of writing project.
Find out more about writing a guest post for our hobby artist blog Alison Hazel Art. We'd love to hear from you.